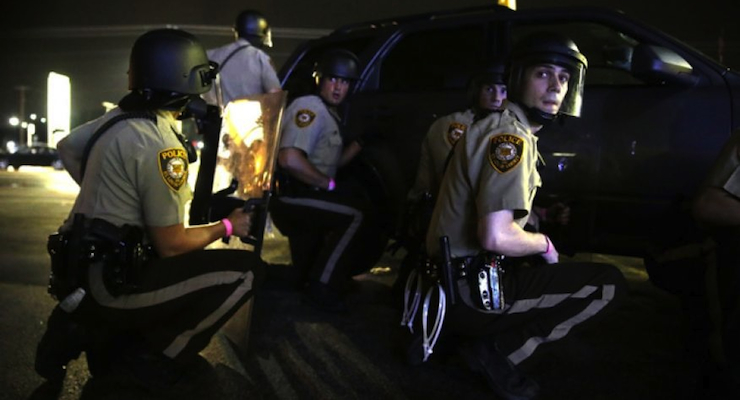 St. Louis County Police Chief Jon Belmar said a man opened fire on plainclothes police detectives in Ferguson late Sunday before being pursued and shot by the officers. The shoot out Sunday took place on the day marking the one year anniversary of 18-year old Michael Brown, who was shot by then-Officer Darren Wilson justifiably. The shooting, however, was highly politicized and when a grand jury refused to indict Officer Wilson and it was revealed the "hands up, don't shoot" version of events was false, it led to widespread protests and rioting.
Chief Jon Belmar said that suspect — whom he refused to identify — was in "critical, unstable" condition at a local hospital. However, the St. Louis Post-Dispatch identified the man as 18-year-old Tyrone Harris Jr., whose father, also named Tyrone, told the paper that his son had just come out of surgery early Monday, and noted that his son and Michael Brown "were real close."
Belmar said that officers had been tracking the man, whom they believed to be armed, during the protest. He said the man approached the detectives, who were sitting in a van, and opened fire. The officers returned fire from inside the vehicle before pursuing the man on foot. Belmar said the man shot again at the officers, all four of whom returned fire. The man who fired on officers had a semi-automatic 9MM gun that was stolen last year from Cape Girardeau, Missouri, according to the chief.
The officers have been placed on administrative leave, in keeping with standard practice after police-involved shootings. Belmar said none of the officers, who have between 6 and 12 years of experience, was seriously injured.
The shooting took place at approximately 11:15 p.m. local time as several hundred people gathered on West Florissant Street.
Belmar told reporters at a news conference early Monday that a second shooting involving two groups of people happened on the west side of West Florissant Avenue just before the police-involved shooting. Belmar said that between 40 and 50 shots were fired in an exchange that lasted approximately 45 seconds, an amount he described as "remarkable." There was no immediate word of any casualties from that shooting.
"They were criminals. They weren't protesters," Belmar said of those involved in the shootings. There is a small group of people out there that are intent on making sure that peace doesn't prevail. There are a lot of emotions. I get it. But we can't sustain this as we move forward."