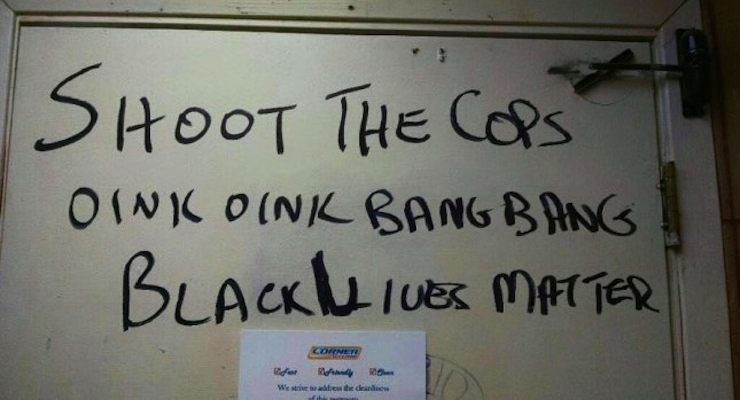 The Austin Police Association said an officer discovered a disturbingBlack Lives Matter message in the restroom of a store where he was taking a police report on Tuesday. "Found in south Austin. Watch your backs," was the message that accompanied a photo of the message posted on the Austin Police Association's Facebook page.
"I'm pretty disappointed that it was not reported by the actual business itself, and it's unfortunate to have an officer uncover that," Austin Police Association President Ken Casady told KXAN-TV. "People are certainly allowed to give their opinion, but when you call for the death of people, that is absolutely not acceptable." A criminal mischief report has now been filed, KXAN reported.
Ironically, Austin Police Chief Art Acevedo just met with the members of the Austin chapter of Black Lives Matter as well as organizers for Police Lives Matter to discuss upcoming rallies organized by the two groups for 10 a.m. Saturday. The Black Lives Matter rally will take place at the State Capitol; the Police Lives Matter rally will begin at police headquarters and then participants will march to the State Capitol, KVUE said. Following the meeting, Acevedo said Black Lives Matter has been unfairly judged, referring to recent video showing BLM protestors chanting "Pigs in a blanket, fry em' like bacon!" at the Minnesota State Fair.
"There're some people trying to hijack that movement by saying things like 'we should go kill cops,' 'we should just kill white people,'" Acevedo added to KVUE. "That's just crazy people, those aren't legitimate members of Black Lives Matter."
However, Acevedo made those comments prior to the recent revelations that cop-killer Joseph Johnson-Shanks, who shot and killed Kentucky State Trooper Joseph Cameron Ponder late Sunday night, was a Black Lives Matter protestor. PPD has not yet received a response to a request for comment regarding the report.
"Sometimes police departments do deserve criticism," Casady added. "I'm not saying we're perfect, but you should never, ever call for someone's death or assassination."
Following the murder of Darren Goforth, 47, a 10-year veteran of the Harris County Sheriff's Office, Sheriff Ron Hickman slammed anti-police rhetoric coming out of Black Lives Matter activists and politicians. Milwaukee County Sheriff David Clarke went even further, saying "President Obama has breathed life into this ugly movement."
According to a recent survey, as well as a number of surveys PPD has tracked over the past year, the vast majority of voters agree with and support Sheriff Hickman and Sheriff Clark, not Acevedo. A new Rasmussen Reports survey finds that 58% of likely voters think there is a war on police in America today, while 60% believe comments critical of the police by politicians fan the flames and make it more dangerous for police officers to do their jobs.