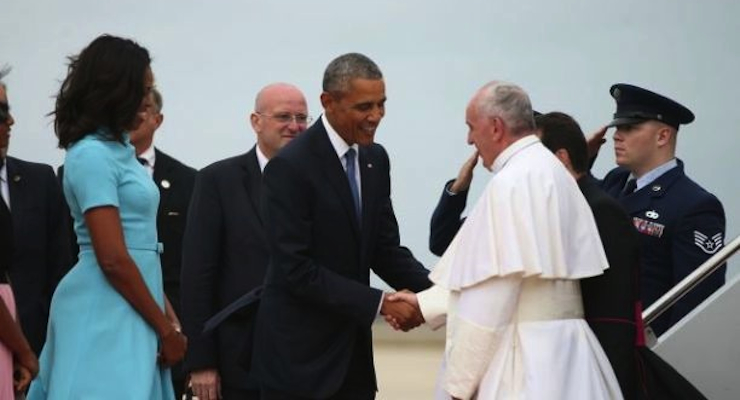 WASHINGTON – Pope Francis arrived Tuesday at Andrews Air Force Base in Maryland, just outside the nation's capital, and was met with "Welcome to the U.S.A." cheers on the red-carpeted tarmac.
Francis, an outspoken critic of capitalism, will use the first visit of his life to the United States to bring his "church of the poor" message to the world's wealthiest nation. His visit comes at a time when the country is polarized over issues closest to his heart: immigration, social injustice and economic inequality.
President Barack Obama, the first lady, and his two daughters welcomed Francis after his chartered plane touched down from Cuba, which is considered an honor for the pontiff. U.S. Presidents typically make important visitors, particularly heads of state, come to them at the White House when they visit the United States. Pope Francis, 78, removed his skullcap and proceeded down the steps in his white robes before being met by a military honor guard, schoolchildren, politicians, and Roman Catholic clergymen.
During his six-day, three-city visit to the U.S., the pope will meet with the president, address Congress, speak at the United Nations in New York and take part in a Vatican-sponsored conference on the family in Philadelphia. President Obama, unsurprisingly, has drawn some harsh criticism inviting gay rights activists, abortionists and rogue left-wing former Catholic clergy who have been sanctioned by Bishop George to the meeting. However, the Argentine Pope, known as the "slum pope" for ministering to the downtrodden in his native Buenos Aires, is in fact expected to urge Americans to take better care of the environment and the poor.
But even as he urges some on the left to its founding ideals of religious liberty, he will ask Americans to open their arms for illegal and legal immigrants. During the flight from Communist Cuba, where he met with the Castro brothers, Francis answered some of the conservative criticisms and concerns of his economic views. He told reporters aboard the plane that some in the media have given the impression that he's "a little bit more left-leaning" than he truly is, and said they are interpreting his words wrong, and he is only repeating church doctrine.
Still, this is the same Pope the Economist recently called "the Peronist Pope," referring to his known sympathies for Argentina's failed, radical left-wing three-time president, Juan Perón.
"What's the greatest economic tragedy in modern history?" CATO economist and PPD contributor Dan Mitchell asked recently. "The obvious answer is communism, which produced tens of millions of needless deaths and untold misery for ordinary people. Just compare living standards in North Korea and South Korea, or Chile and Cuba."
But, despite their political disagreements and concerns, Pope Francis is popular with Americans, particularly Catholics.
"What the pope does in the United States will be more important than what he says," said Mat Schmalz, a religious studies professor at Holy Cross college in Worcester, Massachusetts. "There are a lot of things he will say about capitalism and about wealth inequality, but many Americans and politicians have already made up their minds on these issues. What I would look for is a particular gesture, an unscripted act, that will move people."
A New York Times/CBS News poll conducted last week found 63 percent of Catholics have a favorable view of him, and nearly 8 in 10 approve the direction he is taking the church. According to a Rasmussen Reports survey, 56% of Americans overall thought he was good for public relations at the Catholic Church.