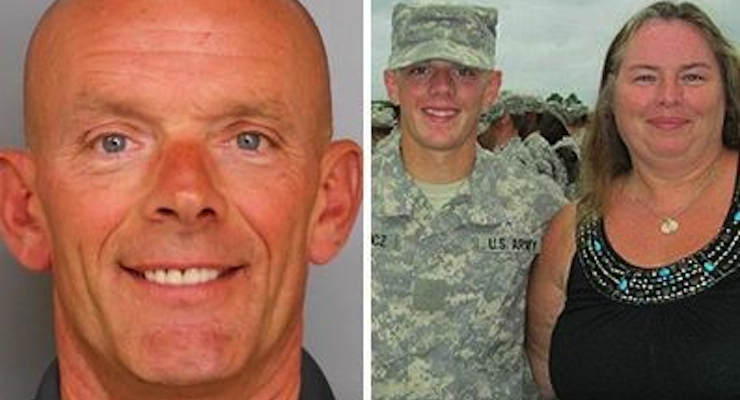 The widowed wife and service-member son of an Illinois cop who "carefully staged" his own suicide are themselves under investigation, WGN-TV reported late Wednesday. Melodie and D.J. Gliniewicz, two individuals with whom Fox Lake Police Lieutenant Joe Glieniewicz communicated with in both text and Facebook messages, at the very least knew of his theft of thousands of dollars from a youth program, as well as his fear about imminent exposure.
Gliniewicz, 52, was stealing and laundering money from the Fox Lake Police Explorer's program and committed suicide due to the "personal stress from scrutiny of his management," Lake County Major Crimes Task Force Commander George Filenko said Wednesday. "Gliniewicz's death was a carefully staged suicide," said Filenko, who added that the officer had "significant experience staging mock crime scenes."
He also said during the press conference that the evidence "strongly suggests criminal activity on the part of at least two other individuals." Authorities released those messages Wednesday morning, identifying the recipients as "Individual #1" and "Individual #2".
Gliniewicz, according to the messages, became increasing nervous after Fox Lake hired Anne Marrin as an administrator, who began auditing all the village departments, including the Explorer program. He allegedly used embezzled money to go on a Hawaii vacation with his wife that cost some $9,000.
"If she gets ahold [sic] of the old checking account, im [sic] pretty well f***ed," Glieniewicz wrote in May.
"This village administrator hates me and explorer program," he wrote in June. "This situation right here would give her the means to CRUCIFY ME (if) it were discovered."
On Aug. 31, the day before Gliniewicz radioed that he was chasing three suspicious men on foot before shooting himself and sparking a massive manhunt for non-existent suspects, Marrin asked about the program's inventory, which from the messages, appears to have been one of multiple times.
"I said do you have that and he said 'yes ma'am. And I said, 'good, can you have that to me at 2 o'clock?' And he said 'yes, ma'am.'
Backup officers later found his body 50 yards from his squad car, which was was hit by two rounds, including one that hit his ballistic vest with the force of a "sledgehammer" and another that pierced his upper chest, killing him.
Hundreds of police officers were searching houses, cabins and boats docked on area lakes, while helicopters using heat-sensing scanners and K-9 units scoured the area for days. Some 50 suburban Chicago police departments and sheriff's offices assisted, which totaled more than $300,000 in overtime and other costs, according to an analysis the Daily Herald published in early October. More than 100 officers stayed on the case for weeks to investigate more than 6,500 deleted text messages from Gliniewicz, 30,000 telephone numbers, 40,000 emails and thousands of pages of financial records.
The Glieniewicz family released a statement through their attorneys after the news conference Wednesday, saying it had been, "another day of deep sorrow for the Gliniewicz Family. The family has cooperated with the Task Force's investigation and will not comment at this time. The Gliniewicz family requests that their privacy be respected as they continue to cope with the loss of the beloved husband and Father."
Joe Ahern, the CEO of the 100 Club of Chicago, an organization that provides financial assistance to the families of fallen officers killed in the line of duty, confirmed he requested the Gliniewicz family return the $15,000 check he gave them on the day Gliniewicz was found dead. Ahern told the Chicago Tribune this is the first time the organization has had to request the return of a family donation.
Further, Motorola Solutions announced on Wednesday a $50,000 reward that had been offered in exchange for information leading to the arrest of Gliniewicz's killer or killers would now be used to replace the stolen funds at the Fox Lake Explorer program.