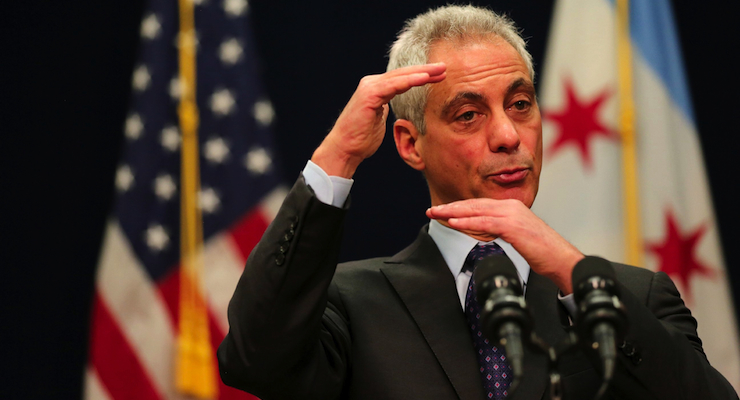 Attorney General Loretta Lynch said the Justice Department opened an investigation into the Chicago Police Department's "use of deadly force" and "its accountability mechanisms." The announcement on Monday comes on the heels of the release of video showing the fatal shooting by a Chicago police officer of a black teenager, as well as another anticipated release of a separate incident.
The Chicago Police Department and Mayor Rahm Emanuel, President Obama's former chief of staff, are under heavy scrutiny over their handling of the October 2014 death of 17-year-old Laquan McDonald. Officer Jason Van Dyke was charged with first-degree murder Nov. 24, more than a year after the killing and only hours before the release of police dashboard camera footage, which shows the officer shooting the teenager.
The Chicago City Council signed off on a $5 million settlement with McDonald's family even before the family filed a lawsuit, but the video was not released until after Mayor Emanuel barely was reelected in an election that marked the first ever in the city's history where the incumbent was forced into a runoff. Critics say it was no coincidence the city suppressed its release as Emanuel was seeking African-American votes in a tight race.
Emanuel forced Police Superintendent Garry McCarthy to resign and subsequently put together a task force to review the department. However, those actions have not silenced the calls for the mayor to resign, which he said he won't do. In fact, they have grown louder from protesters in the city, including more than 200 people who shouted that he step down during a Sunday afternoon march.
A spokesman for the police department referred a request for comment to Adam Collins, who is a spokesman for the mayor's office. While he did comment on the investigation, he offered nothing to quell the questions as to why President Obama just now approved the Justice Department intervention when he was far more quick to do so in New Orleans, Ferguson, Baltimore and several others.
"We welcome the engagement of the Department of Justice as we work to restore trust in our police department and improve our system of police accountability," Collins said.