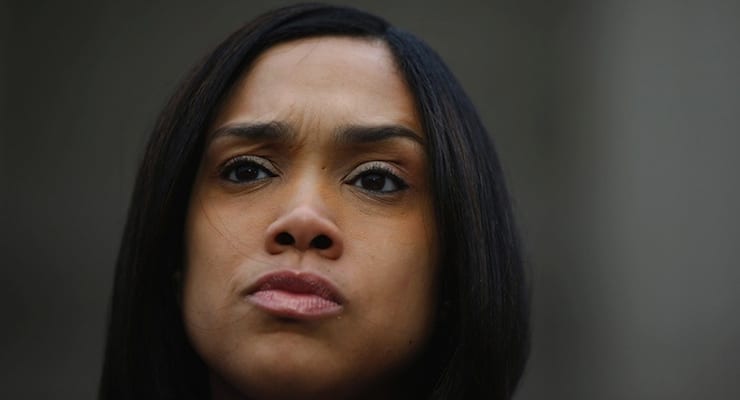 Baltimore State's Attorney Marilyn Mosby is facing growing calls for disbarment over her conduct during the prosecution of six police officers in the Freddie Gray case. With two officers acquitted and a third now on trial, some critics are calling for her to drop the charges against all of the officers from the Baltimore Police Department, to resign and worse.
That all began even before a law professor at George Washington University School of Law filed a disciplinary complaint seeking to disbar Ms. Mosby, a move numerous legal experts on both sides of the aisle agree is more than appropriate. In addition, five of the six police officers charged by Ms. Mosby have filed civil suits against her
The complaint, which was filed by Professor John F. Banzhaf, states Marilyn Mosby violated multiple provisions of the Maryland Lawyer's Rules of Professional Conduct (RPC), to include withholding exculpatory evidence, making inappropriate statements in public (to poison the jury) and continuing to prosecute a case after it has been established there is insufficient evidence to support a conviction.
"In many situations somebody with legal knowledge to file a complaint — such as an attorney in private practice — would be relunctant to do so because they dont want to stir up controversy…. So, the only group that remains able to do something like this would be law professors. They have legal skill … and we are reasonably impartial," Professor Banzahaf said to LawNewz.com. "I do not represent anyone in the case, I have no direct involvement and I'm not in Baltimore. That makes me about as impartial as you can get."
Ms. Mosby's office released a statement that said she and other prosecutors are barred by a gag order imposed by Circuit Judge Barry G. Williams from discussing the officers' prosecution. Thus, they were withholding comment. The Attorney Grievance Commission does not comment on pending complaints.
However, if your tempted to dismiss the complaint as a fantastical long-shot, think again. Professor Banzahaf is known for bringing complaints against against overzealous prosecutors in high profile cases. He played a pivotal role in the disbarment and successful civil lawsuits against Mike Nifong, the prosecutor who continued to proceed in the Duke lacrosse case even when it became clear it was a race-baiting, manufactured incident.
In the complaint filed with the Maryland Bar Counsel, Professor Banzahaf  calls Mrs. Mosby "a runaway prosecutor" and claims she never even had probable cause to charge the six officers in the death of Freddie Gray. Further, he accuses Ms. Mosby of only filing those charges to stop the destructive rioting in Baltimore, something Mayor Stephanie Rawlings-Blake infamously said she wanted to give them "space" to do.
"I heard your call for 'No justice, no peace.' Your peace is sincerely needed as I work to deliver justice on behalf of this young man," Mrs. Mosby said in May of 2015. Now, with more "not guilty" verdicts almost assuredly on their way (from the bench of a black judge), a repeat riot in an already economically depressed city is increasingly likely.
Indeed, Professor Banzhaf isn't alone in the belief Marilyn Mosby's comments and actions were a "misuse of her role" and a "perversion of her office."
"She'll try to say, 'At least I tried. Isn't that a good thing?'" said Roya Hanna, a former Baltimore prosecutor told the LA Times. "I think indicting people when you have no evidence to convict them shows a serious lack of judgment."
Ralph Jaffe, an opinion write for the Baltimore Sun, was one of the first to join in on the growing chorus of reasonable voices condemning Marilyn Mosby. In Mosby deserves to be disbarred, he excoriated Mrs. Mosby for caving to mob rule, liberal agitation and confusing her job as a prosecutor with a race and grievance industry politician. Mr. Jaffe filed a complaint with the Attorney Grievance Commission back in May 2015, long before Professor Banzahaf filed his disbarment request with the Maryland Bar Counsel.
"The truth is that Ms. Mosby became confused, not knowing the difference between being a prosecutor and a politician. She forgot that, even though she was elected in a political arena, her responsibility as a prosecutor is to follow the law. Instead, she chose to pander to the street mob who demanded convictions of the six police officers without any due process," he wrote. "Ms. Mosby decided to placate the liberal agitators who obviously lack knowledge about constitutional law. This decision reflected recklessness and lack of judicial responsibility on her part making it clear her ambition of becoming a new political rock star took precedence over the constitutional rights of the six police officers."