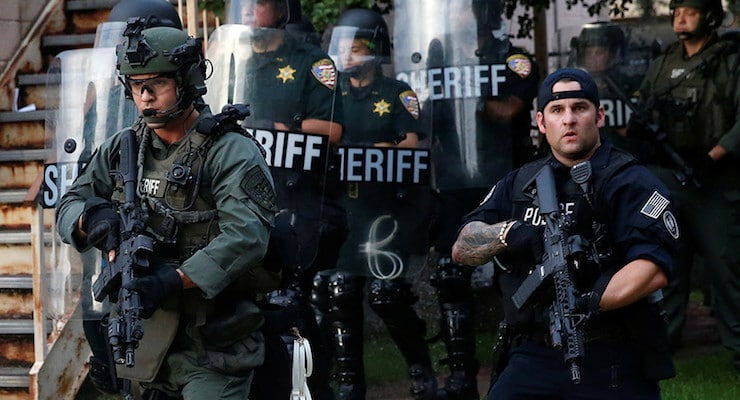 DEVELOPING –Officials have confirmed at least three police officers have been shot and killed in Baton Rouge, Louisiana, and at least four others wounded. People's Pundit Daily confirmed.
The shooting happened early Sunday less than 1 mile from police headquarters and after a plot to murder multiple police was though to be foiled following the shooting death of Alton Sterling in Baton Rouge. Baton Rouge police responded to a call reporting a "suspicious person walking down Airline Highway with an assault rifle," a source said. The suspect, who a witness says was dressed in all black, was indiscriminately shooting outside and opened fire as soon as the police squad arrived.
And he appears to not have been alone. One suspect is dead and two others are still on the loose.
Baton Rouge Police Sgt. Don Coppola did not know the extent of the injuries, but said that authorities believe the "scene is contained." Police were responding to a report of multiple "officers down" after shots were fired around 9 a.m. on Sunday. Multiple agencies responded to the scene.
"There is still an active scene. They are investigating," Kip Holden, the mayor-president of East Baton Rouge Parish said. "Right now we are trying to get our arms around everything. Everything is moving fast and I have not been able to verify everything."
The Louisiana Department of Transportation and Development reported the area was closed to traffic.
The city has seen protests since the death of Alton Sterling , 37, was shot and killed July 5 as he wrestled with two white police officers outside the convenience store in a Baton Rouge, La., suburb where he sold music and movies on compact discs. Police say he was armed and a second video emerged more favorable to the police officers involved.