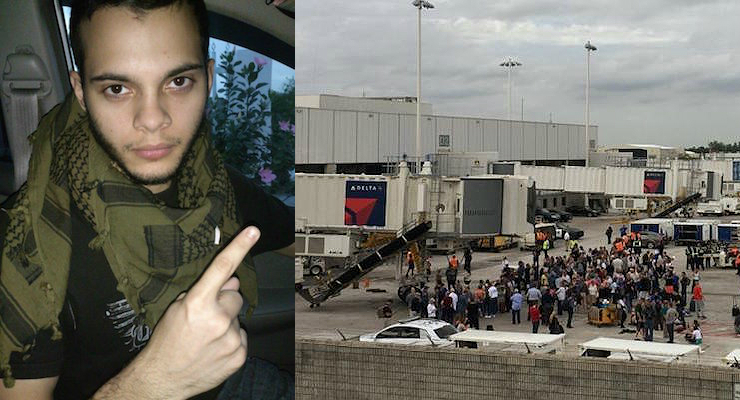 Fort Lauderdale, Fla. (PPD)—Federal prosecutors have charged Esteban Santiago, who opened fire at Fort Lauderdale-Hollywood International Airport on Friday, with performing an act of violence at an airport. Santiago, 26, brought a gun in a checked bag on a Delta Airlines flight from Anchorage, Alaska, where he had been living after serving in the U.S. Army National Guard.
The charges, including three violations related to firearms, were filed in Broward County, Florida, and could carry the death penalty if convicted. Special Agent in Charge George Piro said during a news conference that terrorism is a "potential motivation" for the attack, which killed 5 people and wounded 8 others. Prosecutors said during a news conference that they had interviewed roughly 175 people, including the interrogation of the cooperating suspect.
"Today's charges represent the gravity of the situation and reflect the commitment of federal, state and local law enforcement personnel to continually protect the community and prosecute those who target our residents and visitors," U.S Attorney Wifredo Ferrer said.
National Guard spokesman Major Paul Dahlen said Santiago deployed to Iraq in 2010 as part of the Puerto Rico National Guard, spending a year with an engineering battalion.
People's Pundit Daily reported Friday he was investigated by the Federal Bureau of Investigation (FBI) and U.S. Army Criminal Investigation Division (CID) multiple times. Santiago, 26, according to his aunt, "lost his mind" after a tour of duty in Iraq. Maria Ruiz Rivera, of Union City, said she was told by relatives in Florida that the suspected shooter who killed at least five people at the Fort Lauderdale airport Friday was her nephew, Esteban Santiago-Ruiz.
"Only thing I could tell you was when he came out of Iraq, he wasn't feeling too good," Hernan Rivera, his uncle told The Record newspaper.
Agents who identified themselves as being from the FBI arrived at the family's Union City apartment Friday afternoon to question the aunt and uncle about their nephew, the family said. Sources said Santiago visited the FBI field office in Anchorage in November and told agents that U.S. intelligence agencies had infiltrated his mind and were forcing him to watch ISIS propaganda videos.
The FBI transferred him to law enforcement to be checked for mental health concerns. The complete results of the general welfare check are unknown, though the U.S. Department of Homeland Security was brought into a joint-agency background investigation.