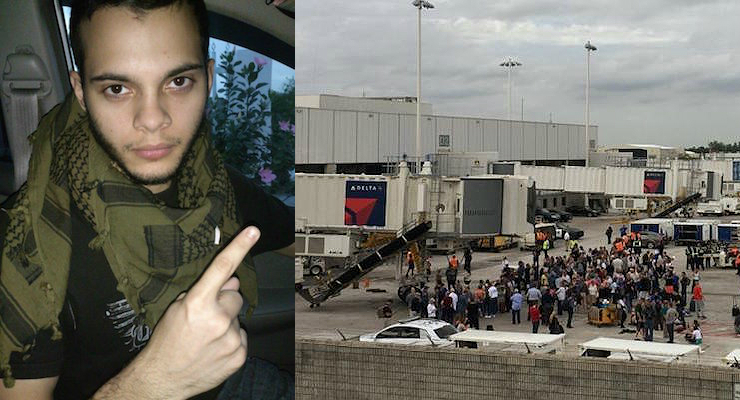 Fort Lauderdale, Florida (PPD)–Esteban Santiago, the man opened fire at Fort Lauderdale-Hollywood International Airport killing 5 people, told told FBI agents he carried out the attack on behalf of ISIS. FBI special agent Michael Ferlazzo testified at the bond hearing Tuesday, at which he said only that Santiago claimed to be fighting for ISIS and had been in touch with like-minded people via jihadi chat rooms who were planning attacks as well.
"He has admitted to all of the facts with respect to the terrible and tragic events of Jan. 6," Assistant U.S. Attorney Rick Del Toro told the court. "These were vulnerable victims who he shot down methodically."
The charges against Santiago include performing an act of violence at an airport and three violations related to firearms, which could carry the death penalty if convicted. The defense did not argue the prosecution's assertion that Santiago posed a flight risk, as well as a danger to the community. His public defender, Robert Berube, said Santiago would not contest the pretrial detention order.
U.S. Magistrate Judge Lurana Snow ruled Santiago would be held without bond and set a Jan. 30 arraignment date for him to enter a formal plea.
Santiago, 26, brought a gun in a checked bag on a Delta Airlines flight from Anchorage, Alaska, where he had been living after serving in the U.S. Army National Guard. National Guard spokesman Major Paul Dahlen said Santiago deployed to Iraq in 2010 as part of the Puerto Rico National Guard, spending a year with an engineering battalion.
People's Pundit Daily reported he was investigated by the Federal Bureau of Investigation (FBI) and U.S. Army Criminal Investigation Division (CID) multiple times.  Sources said Santiago visited the FBI field office in Anchorage in November and told agents that U.S. intelligence agencies had infiltrated his mind and were forcing him to watch ISIS propaganda videos.
The FBI transferred him to law enforcement to be checked for mental health concerns. The complete results of the general welfare check are unknown, though the U.S. Department of Homeland Security was brought into a joint-agency background investigation.