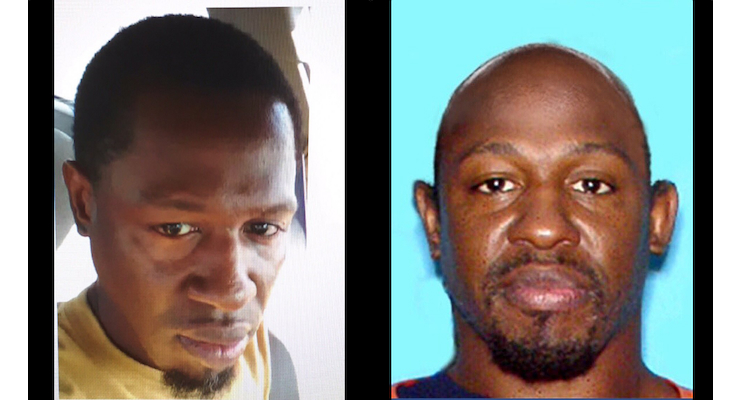 Authorities are now offering a $125,000 reward for anyone who helps to capture the man suspected of shooting and killing Orlando police Master Sgt. Debra Clayton. The Orlando Police Department said Tuesday that investigators were still looking for Markeith Loyd, whom they believed may have changed his appearance to evade capture.
UPDATE: Orlando Cop-Killer Markeith Loyd Arrested
Chief John Mina said the U.S. Marshals Service has added Loyd to its top 15 most-wanted fugitives list, adding that he may have shaved his head since he was last seen. The above photo was provided by the Orlando Police Department as a rendering of what he may look like bald.
OPD released a "more complete physical description" of fugitive Loyd, estimating his height at 6′-6'3″ and weight between 180 to 200 pounds. They say he has a muscular build and a raised scar on left hand. Crimeline has received about 1,400 tips in the nine days following the murder.
Loyd, 41, was accused of murdering his pregnant girlfriend Sade Dixon in December and a warrant had been issued for his arrest. The FBI, Homeland Security, Florida Department of Law Enforcement and U.S. Marshals Service are all involved in the effort along with local agencies to find Loyd.
A shopper had tipped off Master Sgt. Clayton — who was putting bags in the trunk of her vehicle — that Loyd was in the Walmart waiting to check out. As the officer walked towards the store, the suspect barged out and fired at least 12 shots.
Loyd has a long wrap sheet and extensive criminal history. On Nov. 30, he wrote on his Facebook page, "Goals!!!! To be on Americas most wanted."
On Dec. 13, Loyd had gone to his girlfriend's home on Long Peak Drive and began banging on the door. When Dixon answered, he shot her and her 26-year-old brother, Ronald Steward. He was critically wounded and five other people were home at the time of the shooting, including Dixon's 5- and 7-year-old children.
Orange County Sheriff Deputy Jerry Demings said a motorcycle deputy was killed in a crash with a 78-year-old driver during the manhunt effort to capture the suspect. Worth noting, that particular Monday was Law Enforcement Appreciation Day. Master Sgt. Clayton was one of the first officers to respond to the mass shooting at the Pulse nightclub in June that left 49 people dead and more than 50 injured. Chief Mina called Clayton, a mother of two, a hero.
Chief Mina also maintains Loyd continues to receive help on the lamb even after detectives arrested three people just this week who are accused of helping him avoid arrest before Clayton was killed. Loyd's niece, Lakensha Smith-Loyd, and his ex-girlfriend, Jameis Slaughter, each faces a charge of accessory after the fact to first-degree murder.