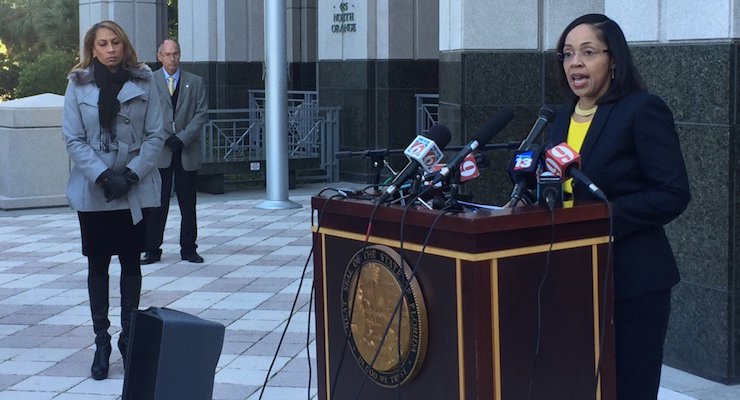 State Attorney Aramis Ayala sparked outrage after she said at a press conference Thursday her office would not seek the death penalty against Markeith Lloyd.
(UPDATE: Florida Gov. Rick Scott has removed Ayala from the Markeith Lloyd case)
"I am outraged by the decision of State Attorney Aramis Ayala not to seek the death penalty in the case of Markeith Lloyd," Florida State House Representative Bob Cortes, R-District 30, said in a statement. "This is a decision that should be arrived by a jury of his peers and to take it off the table is a slap in the face to his victims' and to the wider law enforcement community."
In February, a grand jury indicted Loyd for 1st-degree murder, the killing of unborn child, attempted 1st degree murder and attempted felony murder. Loyd, 41, was accused of murdering his pregnant girlfriend Sade Dixon in December and a warrant had been issued for his arrest before he shot Orlando police Lt. Debra Clayton.
Loyd was arrested following a nine-day manhunt and after authorities announced they increased the reward for his capture to $125,000. The U.S. Marshals Service added him to its top 15 most-wanted fugitives and along with the FBI, Homeland Security and the Florida Department of Law Enforcement assisted local agencies to find the fugitive.
He appeared in court previously and lashed out at the judge with profanity-laced comments, which Chief Judge Frederick J. Lauten said, if repeated, would deny him the right to represent himself. In the end, she granted his request.
"I have given this thought painstaking consideration," State Attorney Ayala, of the Ninth Circuit said. "I have determined that doing so is not in the best interest of the community or the best interest of justice. There is no justice when victims are being misled about an end that I doubt will occur."
Orlando Police Chief John Mina released a harsh public statement underscoring his vehement disagreement with her decision, but he and other members of OPD are furious. Orange County Deputy Norman Lewis was also killed when he was struck by a vehicle during the manhunt searching for Loyd, who was being aided by family.
"I have spoken with the State Attorney and I'm extremely upset that she will not be seeking the death penalty for triple murderer Markeith Lloyd," Chief Mina said. "I have seen the video of Markeith Lloyd executing Lt. Debra Clayton while she lay defenseless on the ground. She was given no chance to live."
Echoing Rep. Cortes, Chief Mina said "heinous crimes" such as these "are the very reason we have the death penalty as an option under the law."
FOP Lodge 25 President Shawn Dunlap said the decision was "an epic injustice to the family of Lt. Debra Clayton as well as every single law enforcement officer in the Ninth Judicial Circuit." He said Ayala was bought by billionaire socialist, anti-death penalty activist and former Nazi sympathizer George Soros.
"I believe we are quickly seeing the results of the $819,734 that anti-death penalty, progressive liberal George Soros spent to assure the candidate who aligns with his philosophy won the race for State Attorney," he said. "There is no shortage of reports of how Soros has manipulated political races across the country."
Rep. Cortez now says he is drafting legislation that would ensure Ayala and other liberal state's attorneys obey the law.
"The State Attorney owes the people an explanation for this appalling decision," Rep. Cortez added. "But more importantly, she owes an explanation to the families of Lt. Clayton, Sade Dixon, her baby, and the men and women of law enforcement who put their lives on the line every day to protect us and all the residents of the state of Florida."