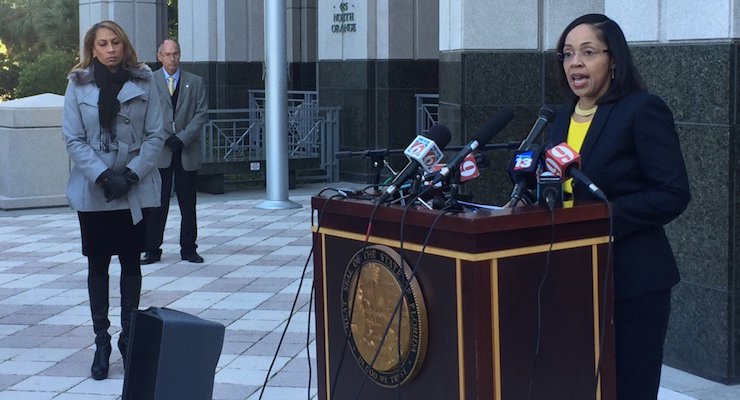 ORLANDO, FLORIDA (PPD) — Florida Governor Rick Scott has removed State Attorney Aramis Ayala from the Markeith Lloyd case after she announced her office would not seek the death penalty. Gov. Scott said instead reassigned the case to long-time Marion County area prosecutor Brad King.
"Earlier today, I called on State Attorney Ayala to immediately recuse herself from this case. She informed me this afternoon that she refuses to do that," Gov. Scott said in a statement. "She has made it clear that she will not fight for justice and that is why I am using my executive authority to immediately reassign the case to State Attorney Brad King."
The move comes after police, lawmaker and public outrage immediately erupted after Ayala's press conference Thursday. Lloyd is charged with killing his pregnant ex-girlfriend and Lt. Debra Clayton, and Orlando Police Chief John Mina publicly expressed his anger. FOP Lodge 25 President Shawn Dunlap said the decision was "an epic injustice to the family of Lt. Debra Clayton as well as every single law enforcement officer in the Ninth Judicial Circuit."
Ayala, who was funded by billionaire socialist, anti-death penalty activist and former Nazi sympathizer George Soros, said there is no evidence of improved public safety for citizens or law enforcement with the death penalty, and that such cases are costly and drag on for years.
"Let's remember, Markeith Loyd is accused of executing a brave law enforcement hero and murdering his pregnant ex-girlfriend, Sade Dixon. Orange County Sheriff's Deputy Norman Lewis was also killed while actively searching for Markeith Loyd following these heinous murders," Gov. Scott added. "I am outraged and sickened by this loss of life and many families' lives have been forever changed because of these senseless murders. These families deserve a state attorney who will aggressively prosecute Markeith Loyd to the fullest extent of the law and justice must be served."