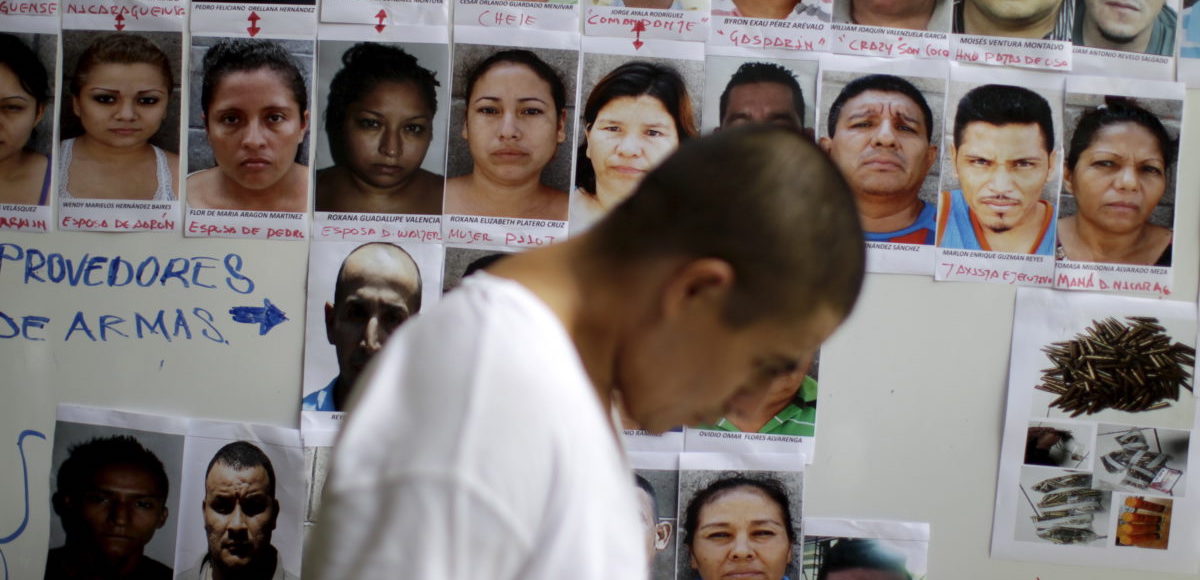 A federal jury Wednesday convicted a member of the El Salvador gang MS-13 in Maryland of conspiracy to participate in racketeering and murder.
Raul Ernesto Landaverde-Giron, aka Humilde and Decente, of Silver Spring, was also found guilty of murder in aid of racketeering, discharging a firearm during a crime of violence and murder resulting from the discharging of a firearm during a crime of violence.
Gang activity surrounding La Mara Salvatrucha, or MS-13, had been on the rise and expanded to multiple states under the Obama Administration. However, the Trump Administration has made a crackdown on their presence and crime in the U.S. a priority.
"With more than 10,000 members across 40 U.S. states, MS-13 is one of the deadliest gangs in America," Attorney General Jeff Sessions said in a statement. "That's why the Trump administration and this Department of Justice have worked aggressively to dismantle this vicious gang and take its members off of our streets."
The investigation that led up to the conviction was a joint effort between DOJ, Immigration and Customs Enforcement (ICE), Homeland Security Investigations (HSI) and other agencies. Ms-13 has become a major criminal organization in California, Texas, Washington, D.C., Virginia and Maryland.
"Cliques," or branches of MS-13, now operate throughout Prince George's County, Montgomery County, and Frederick County.
"Maryland in particular has suffered terribly because of MS-13's campaign of rape, murder, and extortion," Mr. Sessions added, adding that this "conviction is another victory for the American people against this uniquely barbaric gang, and I want to thank everyone who played a role in making it possible, especially Homeland Security Investigations, Prince George's and Montgomery County police, Hyattsville police, and the Assistant U.S. Attorneys and Department of Justice Trial Attorneys who prosecuted the case."
"MS-13 thinks that they are targeting us—but we are targeting them."
MS-13 is now a transnational gang primarily made up of immigrants — legal and illegal — or their descendants from El Salvador. Members are required to commit acts of violence to gain and maintain membership, as well as attack and kill rivals, known as "chavalas." MS-13 issues "greenlights," or orders to be killed, on members for betraying the gang by cooperating with law enforcement or violating gang rules.
From the Justice Department press release:
According to evidence presented at the three-week trial, from at least 2012 through at least 2016, MS-13 members planned and committed numerous crimes, including murders and attempted murders in Prince George's County and Frederick County. Gang members also extorted owners of illegal businesses, among other crimes. Landaverde-Giron was a member of the MS-13 Normandie Locos Salvatrucha Clique.
Trial evidence showed that on Nov. 30, 2013, Landaverde-Giron, along with two other Normandie Clique members, murdered an individual in Frederick, Maryland, who had fled El Salvador to escape a greenlight imposed by MS-13 members in El Salvador. After a co-conspirator recognized the victim in Frederick, Normandie Clique members called an MS-13 leader in prison in El Salvador to confirm the greenlight was still in effect. A co-conspirator then lured the victim to a wooded area in Frederick, where he shot the victim in the head and Landaverde-Giron and another co-conspirator stabbed the victim in the face and neck. Landaverde-Giron was promoted within the Normandie Clique for his participation in this murder.
Landaverde-Giron faces a mandatory sentence of life in prison for murder in aid of racketeering. U.S. District Judge Peter J. Messitte has scheduled sentencing for June 13. Landaverde-Giron remains detained.
In addition to this conviction, five of the seven defendants charged in this case have previously pleaded guilty to their roles in the racketeering conspiracy.
HSI Baltimore, Frederick Police Department, Prince George's County Police Department, Hyattsville City Police Department, Montgomery County Police Department, and the Prince George's County State's Attorney's Office assisted in the investigation and prosecution. The case was prosecuted by Trial Attorney Francesca Liquori of the Criminal Division's Organized Crime and Gang Section and Assistant U.S. Attorneys William D. Moomau and Lindsay Eyler Kaplan of the District of Maryland.