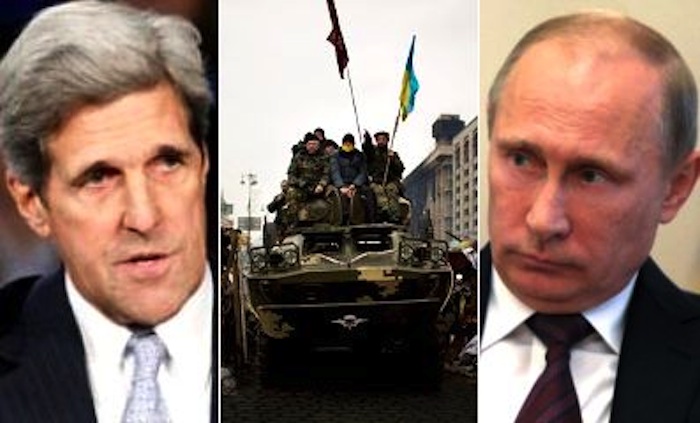 The U.S. Secretary of State John Kerry warned Russia it would be a "grave mistake" to intervene militarily in Ukraine following an order by the Kremlin for 150,000 troops to test their combat readiness by having armed men seize control of government buildings in the Crimea region of Ukraine, raising a Russian flag over a barricade.
Secretary of State John Kerry issued the warning on Wednesday after Russian President Vladimir Putin ordered the large-scale military exercises in what many observers view to be a blatant show of force or even possible prelude to a Russian intervention in Ukraine.
"Any kind of military intervention that would violate the sovereign territorial integrity of Ukraine would be a huge, a grave mistake," Kerry said in Washington. "The territorial integrity of Ukraine needs to be respected."
Kerry also announced that the Obama administration was planning $1 billion in loan guarantees for Ukraine and would consider additional direct assistance for the former Soviet republic satellite state. The comments followed others made by White House Press Secretary Jay Carney, who said Monday that the U.S. government will provide Ukraine foreign aid, with certain conditions, though Carney curiously said it is to "strengthen its social safety net."
Kerry also renewed U.S. demands that Moscow withdraw troops from another former Soviet republic satellite state, Georgia, and called for Georgia to continue to integrate with Europe and NATO.
Tensions between Russia and the West over Ukraine have been growing, as Russia views any Western intentions in its backyard are attempts to subvert Russian regional dominance. Some Russian officials have openly accused the West of orchestrating the protests that overthrew the former president.
Kerry tried to assure Russia that U.S. policy toward Ukraine, Georgia and the other states that once made up the former Soviet Union was not intended to reduce Russia's influence in its region. He claims U.S. intention for former Soviet satellite states is to integrate with the West merely for freedom, democracies and stronger economies.
"This is not `Rocky IV'," Kerry said, referring to the iconic 1985 Sylvester Stallone film in which boxer Rocky Balboa takes on and defeats a massive Soviet on steroids. "It is not a zero-sum game. We do not view it through the lens of East-West, Russia-U.S. or anything else. We view it as an example of people within a sovereign nation who are expressing their desire to choose their future. And that's a very powerful force."
The new, less Russian-friendly government was expected to be approved by the Ukraine Parliament Thursday. The new government will have the difficult task of addressing pressing issues amid a politically divided country already on the verge of financial collapse.
Meanwhile, Russian news agency RBK, citing a "prominent Russian businessman" and a "high-ranking official," reported that Yanukovych had flown to Moscow Tuesday evening and had been seen at the Hotel Ukraine in the Russian capital. The report went on to claim that Yanukovych had later moved to the Barvikha Clinical Sanitorium, a luxury health resort west of Moscow.
While the U.S. and the rest of the West have already recognized the new Ukrainian government, whose drove Yanukovych from the capital, Russia considers him the legitimate president. Dmitry Medvedev said Monday that the new authorities have come to power as a result of "armed mutiny," so their legitimacy is causing "big doubts."
Russian officials staunchly denied that they are holding the former Ukraine president. Mikhail Margelov, the head of the Federation Council International Affairs' Committee stating, "I know definitely that Yanukovych is not in Russia and, in my modest opinion, Russia would not have granted him asylum." Further, the general director of the Hotel Ukraine, Dmitry Yelizarov, told the Interfax news agency that Yanukovych had not stayed at the hotel recently. The spokesman for this department, Viktor Khrekov, told The Associated Press on Thursday that he had no information about the report.
RBK said the information was confirmed by a government official, but neither the government official or the wealthy businessman were identified. The article was under the byline of respected journalists, including RBK's editor in chief.
Meanwhile on Thursday, several dozen armed men stormed and seized the buildings of the legislature and the local government in Ukraine's Crimea region, where the majority of the population are Russian speakers.
The men occupying the parliament building in the regional capital, Simferopol, did not come out to voice any demands. They wore black and orange ribbons, a Russian symbol of the victory in World War II. The men also put up a sign saying "Crimea is Russia."
They threw a flash grenade in response to a journalist's questions.
Igor Korotchenko, a former colonel of the Russian military's General Staff, wrote a commentary in a Russian online newspaper, slon.ru, saying "if illegal armed formations attempt to overthrow the local government in Crimea by force, a civil war will start and Russia couldn't ignore it."
In addition to Putin ordering the military exercises, Russia's defense ministry said it would take steps to strengthen security at facilities of the Russian Black Sea Fleet in Ukraine's Crimean Peninsula, where recently there have been clashes between pro and anti-Russian demonstrators. Pro-Russian protesters have spoken of secession, and a Russian lawmaker has stoked their passions by promising that Russia will protect them.
The Kremlin's orders raised additional fears regarding a possible Russian intervention in Ukraine akin to its 2008 intervention in Georgia, which led to the occupations of Abkhazia and South Ossetia. The move, which was seen as aggression, was condemned by the United States and the Western European powers.