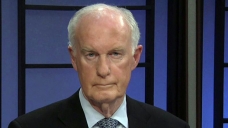 While Australian authorities said Friday they have called off their second day of searching for Flight 370, a military source with close ties to Boeing officials working on the mystery of the missing plane found the Pakistan theory "credible." Lt. General Tom McInerney, a retired Air Force commander and Fox News contributor, raised eyebrows this week when he introduced the possible scenario the plane had landed in western Pakistan.
"I think those passengers have the potential of still being alive, and I believe that airplane landed," Lt. General McInerney told Sean Hannity.
But the source agreed with McInerney that there has been no evidence to suggest the plane continued South, citing what they characterized to be "sophisticated radar systems" in Indonesia and particularly Singapore. Radar would have picked up Flight 370 based upon altitude data transmitted by the two Rolls-Royce Trent 800 engines sending routine performance reports.
This person also confirmed that the SATCOM was still pinging throughout the estimated flight time, which raises the question — if in fact there was some form of a tragic accident — why neither the pilot nor co-pilot ever said a word about it.
Further, as stated by McInerney, the distance from Kuala Lumpur to Beijing is nearly the exact same distance from Kuala Lumpur to Lahore, Pakistan, located just South of Quetta International Airport in Pakistan. Malaysian government officials confirmed they did, in fact, suspiciously ask for cooperation or "assistance" from the Pakistani government Tuesday. When the missing plane was last picked up by a satellite at 8:11 PM, the flight was headed toward India on a Northwest trajectory, which would have put the plane on a clear path to Pakistan.
Both India and Pakistan have denied that the missing plane is anywhere in their territories or airspace, or that any of its citizens were somehow involved in its disappearance. "The idea that the plane flew through Indian airspace for several hours without anyone noticing is bizarre," an Indian defense ministry official said. "These are wild reports, without any basis."
There have been even more suspicious developments, or rather events that don't corroborate with officials' stories, which lend credence to the claim made by Lt. General McInerney. When asked whether or not it was possible that Flight 370 could fly in the shadow of Singapore Flight 68, which would at least explain the India blackout, the military official said "a Boeing 777-200ER could fly in the shadow of another flight with relative ease," though there is no evidence to suggest that it did.
President Barack Obama said Wednesday that finding out what happened to the missing plane from Malaysia Airlines is a top U.S. priority. During what was his first public appearance since the disappearance, Obama said he wanted the families of the 239 missing people on the plane to know that the United States will keep working "to see if we can get to the bottom of this."
However, a U.S. destroyer, which had covered 15,000 square miles of water in its effort, had left the search several days before. The fact that the destroyer and the majority of U.S. naval vessels taking part in the search had been called back, spoke volumes to what the U.S. may or may not have already known.
The source, who made clear they are not privy to the missing plane's location, said they believe the search off the coast of Australia "is likely a decoy." U.S. naval vessels only returned to the joint, multi-nation naval search after General McInerney made his claims Wednesday.
"Israel doesn't increase air defense everytime a pilot aimlessly flies a plane until the fuel runs out and crashes in the South Indian Ocean."
John Lucich, a former New Jersey State investigator also said, "in my opinion — based on the information that has come out — I believe this plane has landed somewhere; that they have hostages and an airplane now."
The FBI has now taken into their possession the pilot's computer and flight simulator data, which the Malaysian government had said was wiped clean and checked. Of course, they also said they originally cleared both the pilot and co-pilot.
As far as the reason terrorists may have settled on a Boeing 777-200ER, the military source with strong ties to the defense contractor company, said the plane is capable of far more than the media has been reporting. It is little-known that this particular plane can be remotely operated without any assistance from actual onboard pilots. And while this model was equipped with two Roll-Royce Trent 800 engines, others are also powered by engines made by General Electric and Pratt and Whitney.
However, "the Rolls-Royce Trent 800 engines are designed to power the flight of an airtank and not just an airbus," the source said. "If hit with a variety of munitions, these two engines will not only not be disrupted, but the design is such they will literally spit them out."