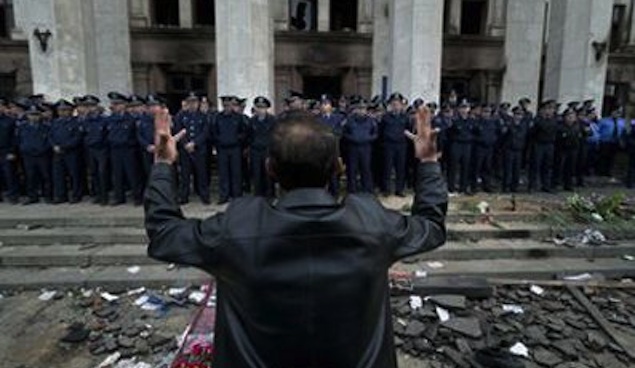 On Sunday, interim Prime Minister Arseniy Yatsenyuk stepped up Ukraine's rhetoric against Russia, claiming the Kremlin-backed anti-government protesters are orchestrating a "real war" against the pro-West government in Kiev, Ukraine. The accusation comes just days after violence and unrest resulted in the death of 42 people in the city of Odessa.
In an interview with the BBC, Yatsenyuk said that Ukraine would support a "full, comprehensive, and independent investigation" into the violence that occurred on Friday in the Black Sea port. Anti-government forces secured the trade union building in Odessa, Ukraine, and at least three people were killed by gunfire. But rather than allowing Russian forces to remain in the building, pro-Kiev groups instead firebombed the building.
"I personally blame the security service and law enforcement office for doing nothing to stop this crackdown," Yatsenyuk told the BBC. Still, Prime Minister didn't stop the blame-game there, stating also that Russian-backed groups were "provoking the unrest." Russia and the protesters of orchestrating "real war … to eliminate Ukraine and eliminate Ukranian independence," Yatsenyuk said.
Ukraine has been a real mess over the past few months, but violence and unrest have increased substantially after the Crimean referendum that resulted in the Russian annexation of Crimea, a vital warm-water lifeline to the Black Sea.
Ukraine says their troops have recently made gains against positions formerly held by pro-Russian forces in the eastern part of Ukraine, which Russian intelligence and special forces have been hammering away at since the Crimean vote.  On his Facebook page, Interior Minister Arsen Avakov posted a statement reporting that a new effort by the National Guard to retake control over the town of Kramatorsk began Sunday at dawn.
Until now, counter-insurgency operations have focused on the nearby town of Slovyansk, but the town of Kramatorsk saw violent clashes Saturday that resulted in insurgents setting buses alight to ward off attacks. While Russian television has reported a total of 10 deaths, including two among government forces, we could not independently confirm those figures.
Meanwhile, the government claimed that Ukrainian forces have reclaimed a television tower in the town, but that claim, too, People's Pundit Daily has not confirmed. Over the past month, government buildings have been seized by pro-Russian forces in more than a dozen Ukrainian cities and towns across eastern Ukraine.
The Donetsk People's Republic says it plans a referendum, as well, as plans to hold a vote on autonomy by May 11. However, with less than a week remaining, on the ground there is no visible effort to make that vote happen.