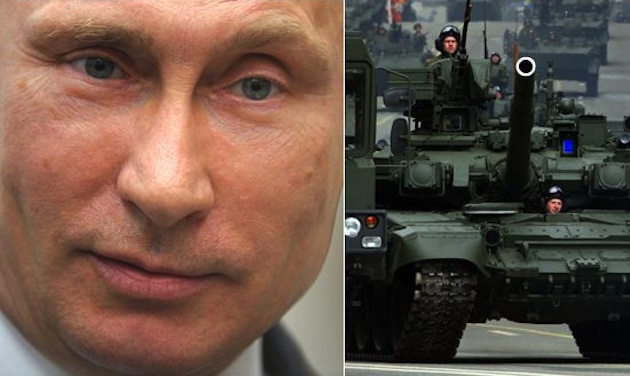 Russian President Vladimir Putin claimed Wednesday that the Russian military pulled back from the Ukrainian border, but Pentagon officials say US intelligence disagrees. "That's bunk," one official told People's Pundit Daily, "we've not seen any movement from Russian forces." Putin also urged pro-Russian agitators seeking Russian annexation of eastern Ukraine to delay Sunday's referendum on secession, and claimed he is working behind-the-scenes to calm tensions, as well.
Putin made the comments during a Moscow meeting with Swiss president Didier Burkhalter. But upon further examination, his comments have discrepancies.
He said the Russian military pulled back to training grounds for "regular exercises," but didn't specify where those locations were in whether they were in or around areas near eastern Ukraine. Further, Pentagon spokesman Col. Steve Warren, told Fox News the US had "seen no change in Russian force posture along the Ukrainian border," similar information PPD obtained.
That's not stopping Putin from making the claims.
"We're always being told that our forces on the Ukrainian border are a concern. We have withdrawn them. Today they are not on the Ukrainian border, they are in places where they conduct their regular tasks on training grounds," Putin said at the meeting. He also pressed Ukraine to stop all military operations, which were launched May 4 in a counter-offensive after several government buildings were seized in at least a dozen cities and towns in Ukraine by pro-Russian separatists.
Sunday's vote for more autonomy in another area of what was independent Ukraine would certainly spark further violence, just as the Russian annexation of Crimea in March. Residents in the Ukrainian Black Sea peninsula held a vote and overwhelmingly backed secession.
"We believe that the most important thing is to create direct, full-fledged dialogue between the Kiev authorities and representatives of southeast Ukraine," Putin said. "Because of this, we ask that representatives of southeast Ukraine, supporters of federalization in the country. postpone the May 11 referendum in order to create the necessary conditions for such a dialogue."