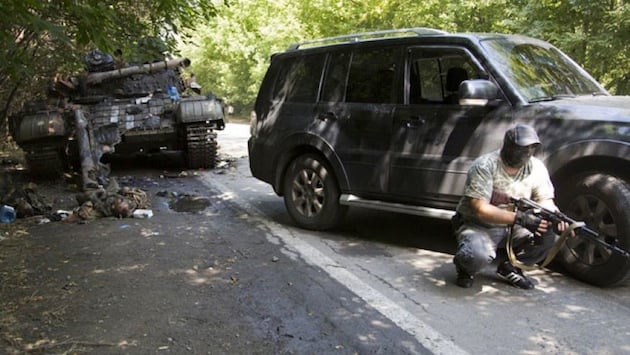 The White House confirmed Thursday that Russia is firing artillery from its own territory at Ukrainian military sites in the embattled eastern European country. The developments suggest the conflict is escalating, as Russian involvement increased after Europe and the West provided a weak response to the downing of a civilian aircraft last week.
"This clearly is a military escalation," Pentagon spokesman Col. Steve Warren said. Pentagon officials also made clear that there is no doubt the firing is coming from the Russian military in-country, not the Russia-backed separatists.
State Department spokeswoman Marie Harf, citing "human intelligence," first made the claim earlier Thursday at a State Department press conference. She also added that Moscow has increased both the amount and system capabilities regarding its military shipments to pro-Russian separatists.
"We have new evidence that the Russians intend to deliver heavier and more powerful multiple rocket launchers to separatist forces in Ukraine and have evidence that Russia is firing artillery from within Russian to attack Ukrainian military positions," Harf told reporters.
Now, the Pentagon is simply confirming her earlier claim, adding that Russia has been firing artillery for several days now.
The latest developments follow an ongoing crisis in Ukraine and the wholesale murder of civilians by Russian-backed separatists when they shot down a Malaysian Airlines Flight MH17 jet over eastern Ukraine last week.
U.S. intelligence officials told PPD they had no reason to doubt the authenticity of audio tapes that were intercepted by Ukraine's security force, which caught the moment Russian separatists shot down the Malaysian plane, killing nearly 300 innocent people with a Russian-built and supplied surface-to-air missile.
Harf said Wednesday the ultimate responsibility for the downing of the plane rests with Russian President Vladimir Putin and the Russian government.
Meanwhile, Ukrainian Prime Minister Arseniy Yatsenyuk announced his resignation Thursday, saying a "collapse of the coalition" demands new elections. Yatsenyuk took over as prime minister just short of five months ago supported by a coalition of pro-European parties. They took power after pro-Russian President Viktor Yanukovych was driven from office by months of street protests on Kiev's Independence Square, or Maidan.
Also, more military aircraft carrying remains of victims from the Malaysian plane disaster arrived in the Netherlands on Thursday, while Australian and Dutch diplomats joined to promote a plan for a U.N. team to secure the crash site which has been controlled by pro-Russian rebels.
On Monday, the U.N. Security Council unanimously approved a resolution proposed by Australia demanding that rebels cooperate with an independent investigation and allow all remaining bodies to be recovered.