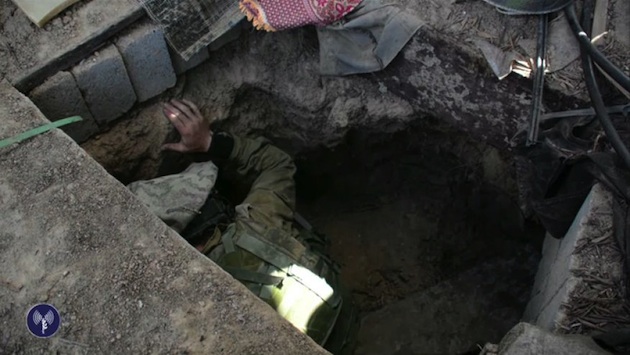 [wzslider transition="'slide'" info="true" lightbox="true"]
Eighteen days into the Israeli ground offensive to end the endless Hamas rocket fire from the Gaza Strip, and brokering a cease-fire is proving just as complex as the vast network of terror tunnels discovered by the Israeli Defense Forces.
U.S. Secretary of State John Kerry was dispatched to craft an agreeable cease-fire this week, and Israel's security Cabinet will meet Friday to consider the plan. However, on the day that marks the final Friday of Ramadan, the Muslim month of fasting and prayer, which ends with a feast beginning Sunday or Monday, the Palestinian Fatah movement called for a "day of rage."
Kerry's plan, which will include a call for a humanitarian truce for the duration of at least five days, has little chance at success with the terror group Hamas. The militant terror group has already broken two separate cease-fires, one of which was also for humanitarian purposes. But the terms Hamas demands are undeniably impossible for Israel to live with.
Hamas rejected the first Egyptian-brokered cease-fire proposal, demanding the joint Israeli-Egyptian blockade be eased so they can have access to the Al-Aksa Mosque on the Temple Mount in Jerusalem. Israel imposed the blockade in 2006 after Hamas and other militants abducted an Israeli soldier. Egypt tightened its own restrictions last year after the overthrow of the oppressive Muslim Brotherhood government in Cairo, which was aided by Hamas, and has destroyed many of the cross-border smuggling tunnels were used by Hamas to bring in weapons.
Any further easing of the blockade would ensure Hamas could again begin to tunnel more elaborate networks of terror tunnels from which they could launch attacks on Israel, smuggle weapons and stage kidnappings. Defense Minister Moshe Ya'alon said shutting down the tunnels is critical to security in Israel.
"We've been busy with the tunnels for a long time — in the last year we have discovered four in our territory," Ya'alon said. "This can be dealt with diplomatically or militarily — now it's being done militarily with a lot of success."
More than 60 access shafts leading to 28 tunnels have been uncovered since Operation Protective Edge began on July 8. Pictures released by the IDF show a sophisticated network of tunnels complete with stone walls and metal ladders.
"An IDF force uncovered a terror access shaft in Gaza in which were weapons, maps and IDF uniforms, all intended for the execution of terror attacks against Israel," said an IDF statement. "In addition, an IDF force attacked several militants emerging from a tunnel opening in the southern Gaza Strip. Since the beginning of the ground operation more than 60 access shafts leading to some 28 tunnels have been uncovered."
Also, Hamas demands that Israel will release the Palestinian Schalit prisoners. The six prisoners were initially freed by Israel as part of an exchange for a captured IDF soldier, but later re-arrested in the West Bank after the group recommenced terrorist activities. Israeli officials said earlier in the conflict the issue of re-releasing the prisoners was "not up for discussion," because they are simply too much of a danger to their national security.
Still, Kerry's new proposal stands a far better chance of being accepted by Israel, who has already agreed to the terms of two cease-fires, than Hamas. However, because the terror tunnel network was far more extensive than previously thought, it is difficult to imagine what benefit Israel would see from the cease-fire if they were to be allowed to remain. A U.S. intelligence source said that American satellite imagery suggests that as many as 60 tunnels have been built underneath Gaza.
"We've been busy with the tunnels for a long time — in the last year we have discovered four in our territory," Ya'alon said. "This can be dealt with diplomatically or militarily — now it's being done militarily with a lot of success."
Kerry's proposal does in fact include a provision that states Israeli Defense Forces would be allowed to stay in Gaza to continue to locate and destroy Hamas tunnels. Several members of the U.N. Security Council have objections to that provision, but in light of recent events, have remained relatively quiet.
Missile caches have been found in UNRWA schools that Israeli officials say arrived through one of the terror tunnels. "The rockets were passed on to the government authorities in Gaza, which is Hamas," a senior Israeli official told the Times of Israel. "In other words, UNRWA handed to Hamas rockets that could well be shot at Israel."
Kerry, who will leave Cairo Friday afternoon and return to Washington, is awaiting an answer from the Qatari and Turkish foreign ministers as to how Khaled Meshal, the head of Hamas' political wing, has responded to his proposal.