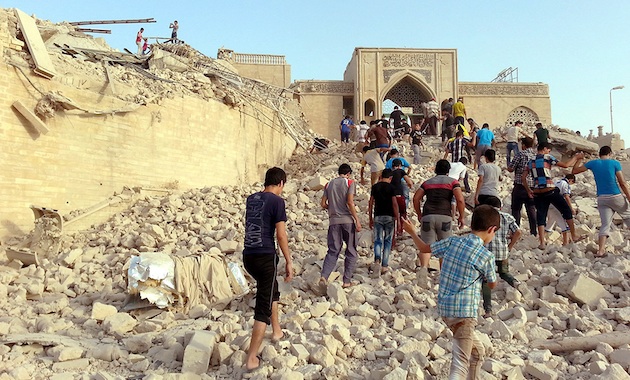 The Sunni Islamic extremists who make up the Islamic State of Iraq and Syria destroyed the tomb of Jonah the prophet Thursday. Contrary to other reports, the site is holy to both Christians and Muslims. One man, who took a video — viewable below — of the explosion from afar, can be heard saying "No, no, no. Prophet Jonas is gone. God, these scoundrels."
Watch video taken by local Iraqi man below:
However, there is little doubt that Jonah, who is also called Dhul-Nun in Arabic (ذو النون) meaning "The One of the Whale," is more emphasized in Judeo-Christian faiths. And the attack was certainly meant to send a message to the world that other faiths aren't welcome.
Sam Hardy, a professor at the American University of Rome who writes the blog Conflict Antiquities, told The Washington Post exactly why he believes ISIS did this.
"It indicates they are going for total eradication not just of their enemies but even of the possibility of people living together under their rule," he told the paper.
ISIS has been persecuting Christians and others outside the Sunni Muslim faith since assuming control of more than one-third of Iraq. In addition to issuing proclamations that Christians should leave Iraq while they still can, the destruction of any and all holy sites by ISIS remains a real possibility.
"Basically pretty much anything in the Bible," Hardy said.
And why would they be worried about destroying valued treasures of intrinsic and sentimental value to both the West and East?
"If we didn't intervene when they were killing people, it would be kind of grotesque to intervene over a building," Hardy said.
The AFP recounts the events via an official at the Sunni endowment:
"'Islamic State completely destroyed the shrine of Nabi Yunus after telling local families to stay away and closing the roads to a distance of 500 metres from the shrine,' said the official at the Sunni endowment, which manages Sunni religious affairs in Iraq.
"The endowment official, who spoke on condition of anonymity, and Mosul residents told AFP it took the Sunni extremists an hour to rig the shrine with explosives.
"'They first stopped people from praying in it, they fixed explosive charges around and inside it and then blew it up in front of a large gathering of people,' said a witness who did not wish to give his name."
The story of Jonah
Jonah, or Younis in Hebrew (יוֹנָה), was a prophet of the northern kingdom of Israel in about the 8th century BC. Though he is famous for being swallowed by a fish or a whale, depending on translation, Jonah was commanded by God to go to the city of Nineveh to prophesy against it "for their great wickedness is come up before me" (Jonah 1:2).
Jonah, at first, disobeyed God and attempted to flee from "the presence of the Lord" by going to Jaffa and sailing to Tarshish, which is in the opposite direction. When a supernatural storm arises the crew of the ship decided to throw Jonah over in an attempt to calm God's anger via the storm. He was saved by a huge whale, or fish, and was held in its mouth for 3 days and nights.
God again commanded Jonah to go to Nineveh and prophesy to its inhabitants, and this time, he went. Upon entering the city, Jonah cries "In forty days Nineveh shall be overthrown." The people of Nineveh begin to believe God's message and decide to fast. The king of Nineveh puts on sackcloth and sits in ashes, making a royal proclamation that decrees fasting, sackcloth, prayer and repentance.
God sees their repentant hearts and spares the city at that time (Jonah 3:5 – 10). The entire city is humbled and broken with the people (and even the animals) in sackcloth and ashes. Even the king comes off his throne to repent.
There is more to the story, but perhaps more people should pick up a Bible and read it.