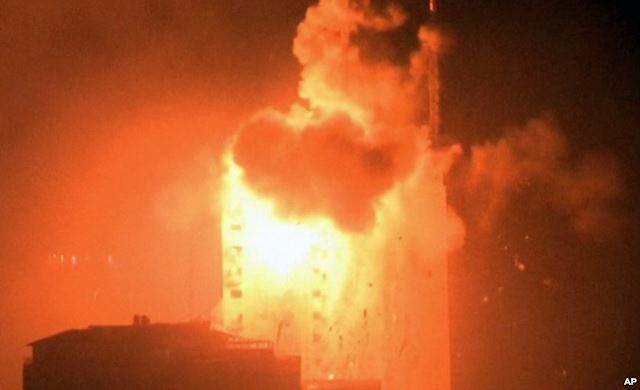 Israel's military continued to hammered target in the Gaza Strip on Tuesday, following a national address by a more resolute Israeli Prime Minister Benjamin Netanyahu.
Speaking to his nation Monday night, Netanyahu said that Israeli forces will act "aggressively" and must be prepared for a "prolonged campaign."
"Bravery and determination are needed to fight a terror group which seeks our destruction," Netanyahu said, making clear to Palestinian sympathizers in the U.N. that the Operation "Defensive Edge" will continue until the "terror tunnels" are destroyed.
"We need to be ready for a prolonged campaign," Netanyahu said. "We will continue to act aggressively and responsibly until the mission is completed to protect our citizens, soldiers and children."
"There is no war more just than this," he added.
"His threats do not scare Hamas or the Palestinian people and the occupation will pay the price for the massacres against civilians and children," Hamas spokesman Sami Abu Zuhri said in response to Netanyahu's statements.
Meanwhile, Israeli tank fire hit the fuel depot of the Gaza Strip's only power plant on Tuesday, and an Israeli military spokeswoman said 70 targets were targeted in Gaza throughout the night.
"The power plant is finished," said its director, Mohammed al-Sharif.
A Hamas spokesman confirmed that the image above is indeed one of its broadcast outlets, Al-Aqsa TV and Al-Aqsa Radio, which were also targeted early Tuesday. At least two major explosions hit the media building, which was one of the tallest in Gaza.
During a phone conversation Monday with U.N. Secretary-General Ban Ki-moon, Netanyahu blasted the most recent United Nations Security Council statement, which calls for an immediate cease-fire in Gaza. The statement calls for both Israel and Hamas "to accept and fully implement the humanitarian cease-fire into the Eid period and beyond."
Netanyahu told Ban Ki-moon that the U.N. statement prioritizes the interests of a "murderous terrorist organization" over Israeli security.
"The statement did not deal with the harm done to Israeli civilians, nor to the fact that Hamas turned Gaza civilians into human shields," Netanyahu said. He also said that neither U.N. statement or its actions have addressed the fact that Hamas is using U.N. facilities to attack Israeli civilians. Corrupt U.N. officials either ignored or helped the storage of Hamas rockets in two U.N. schools late last week, which aids Hamas in their hope to trick Israel into attacking civilians.
Netanyahu told Ban that that the international community should "work to demilitarize Gaza," rather than allow U.N. money to find its way to Hamas, which is then used to build terror tunnels to attack Israel.
"They are continuing to fire even now at Israel citizens," he said. "Israel will continue to deal with the terror tunnels, which is only the first step in demilitarization."
Palestinian U.N. Ambassador Riyad Mansour said Monday that he hope that Israel will "honor and respect" a new humanitarian cease-fire, despite Hamas repeatedly violating or rejecting such cease-fire proposals over the duration of the conflict.
"You cannot keep 1.8 million Palestinian civilians in the Gaza Strip in this huge prison," he complained to reporters. "That is a recipe for disaster. It is inhumane, and it has to be stopped and it has to be lifted."
Ironically, PPD confirmed the Gaza Interior Minister had told Palestinian civilians during the onset of the conflict to ignore Israeli warnings to evacuate areas in Gaza. Further, a video posted by PPD shows Palestinian youth confirming that most people are only trapped in the Gaza Strip because Hamas will not let them flee to safety.
Israel's U.N. Ambassador Ron Prosor struck a more assertive tone in response to the comments and question over whether Israel would accept a new humanitarian cease-fire. He noted that the Israeli Security Cabinet had already agree to five cease-fires since the conflict began, while Hamas had honored none.
"Every single time the international community called for a cease-fire, we ceased and Hamas fired," he said.
The Gaza health ministry claims the 20-day war has killed more than 1,050 Palestinians, though it is unclear how many are civilians. Israel has lost 52 soldiers, as well as two Israeli civilians and a Thai worker killed by rocket and mortar attacks from Gaza, according to the Israeli military.
Israeli military spokesman Lt. Colonel Peter Lerner denied Israeli involvement in a strike on a Gaza park that killed 10 people Monday. "This incident was carried out by Gaza terrorists whose rockets fell short and hit the Shifa Hospital and the Beach (Shati) camp," he said.