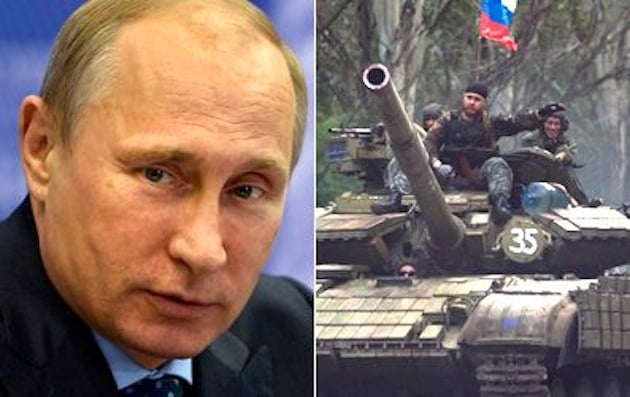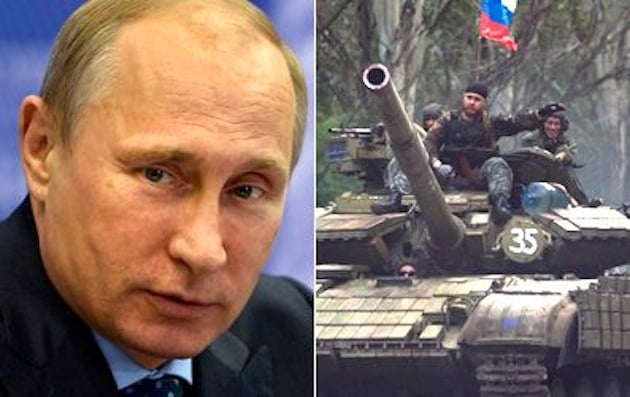 A day after President Obama accused Russia of violating the 1987 I.N.F. Treaty, the Russian-backed separatists in Ukraine suffered a severe loss on the battlefield near the area where Malaysia Airlines Flight 17 crashed July 17. The self-proclaimed prime minister of the separatists republic in Donetsk, Alexander Borodai, left territory once held by the rebels on Monday for Moscow, leading Ukrainian officials to question whether the rebels were gearing up to flee the city.
Vladimir Antufeyev, a top official in the so-called People's Republic of Donetsk, said that Borodai had gone to Russia to discuss "humanitarian aid" and would soon return to the region. But, Igor Girkin, a defense official, said Monday that over 100 wounded separatists soldiers had been evacuated to Russia because he couldn't "rule out the total siege of Donetsk from all sides."
U.S. officials say Russia is taking a more direct role in the fighting, and the setbacks could explain why Russia had been lobbing artillery from the motherland across the border into eastern Ukraine for several weeks.
Deputy National Security Adviser Tony Blinken said the Russians were using the situation with Malaysian Airlines Flight 17 as "cover and distraction," and all the while have been moving heavy weaponry over its border and into Ukraine.
"We've seen a significant re-buildup of Russian forces along the border, potentially positioning Russia for a so-called humanitarian or peace-keeping intervention in Ukraine," Blinken said. "So there's urgency to arresting this."
Meanwhile, in what has been the most serious allegation the Obama administration has leveled against Russia, a letter from Obama to Putin says the U.S. has determined that Russia has violated the ban on American and Russian ground-launched ballistic or cruise missiles capable of flying 300 to 3,400 miles.
A soon-to-be public State Department report will claim administration officials have unanimously concluded that Russia is no longer in compliance with the Intermediate-range Nuclear Forces Treaty, or I.N.F. Treaty.
"The United States has determined that the Russian Federation is in violation of its obligations under the I.N.F. treaty not to possess, produce or flight test a ground-launched cruise missile (GLCM) with a range capability of 500 kilometers to 5,500 kilometers or to possess or produce launchers of such missiles," that report says.
The Obama administration has known about Russia's activity in this area since 2008, and actually made the decision in 2011 that there was a compliance issue with the treaty. Republican lawmakers have been sounding the alarm on the violation for years, but it is only now that the Obama administration found it beneficial to bring these developments to light in the public and international arena.
Still, Obama says in his letter to Putin that he is interested in more diplomatic dialogue with Moscow that will preserve the 1987 treaty, and underscores developing steps that Russia can take to re-establish compliance. Secretary of State John Kerry voiced the same interest in a Sunday phone call to Sergey V. Lavrov, the Russian foreign minister, who recently mocked the idea of further sanctions imposed by the U.S. and European countries on Russia. Lavrov said they would not work or deter Russia.
"We will overcome any difficulties that may arise in certain areas of the economy, and maybe we will become more independent and more confident in our own strength," he said to Reuters.
With the exception of British Prime Minister David Cameron, U.S. allies in Europe have placed their trade relationship with Russia above punishing violations of their own international norms.
The EU has been dragging their feet behind Washington with its earlier sanctions package, as dependence on Russian energy exports could damage their economies. Barring a complete embrace by the Obama administration to increase production and exports of U.S. energy resources, Obama and Cameron have few options.
A spokesman for Prime Minister Cameron did call on Europe Monday to move a "strong package of sectoral sanctions as swiftly as possible."