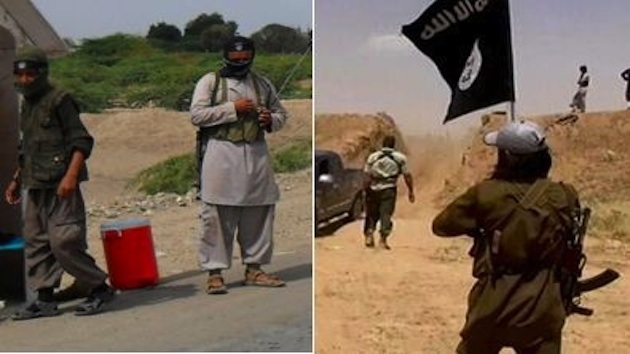 A new report outlines a dangerous competition between the world's two top Islamic terror groups. In the days running up to the anniversary of Sept. 11, 2001, this Al Qaeda vs ISIS terror rivalry is becoming a serious concern to those operating within U.S. intelligence circles.
"Al Qaeda and ISIS are in a competition and hitting the U.S. dramatically, preferably in the homeland, is key to winning," Ryan Mauro, a national security adviser with The Clarion Project, told FoxNews.com. "Al Qaeda needs to prove it is still viable and relevant in light of ISIS' success. And ISIS will be universally recognized as having eclipsed Al Qaeda if it can strike inside the U.S."
While ISIS is at the center of recent media reports, as far as attacks on the homeland, U.S. intel says Al Qaeda is still the number one threat due to their incessant efforts over the years to garner sympathies from radicalized Americans.
"These local groups have a record of recruiting Americans to come join them overseas and sometimes to even support them from inside America," he added. "It is conceivable for any of these group's supporters inside the U.S. to carry out an attack on the homeland. All it takes are a few nudges from the group itself, Islamists outside the group, or their own personal ego."
Al Qaeda came close to executing an attack on the homeland several times but failed, nonetheless. Umar Farouk Abdulmutallab, the infamous underwear bomber, failed to blow up a Northwest Airlines flight as it neared Detroit only because the bomb failed to detonate. Another attack failed when the Saudis provided intel that led to the discovery of explosives hidden in printer cartridges on a cargo plane. Both attempts were the work of a Yemeni-based Al Qaeda group in the Arabian Peninsula.
Still, as the two groups compete for recruits, weapons and money, the headlines are a clear advantage for ISIS.
"If it's a homegrown terrorist acting mostly independently, I think he's most likely to identify with ISIS while still having admiration for Bin Laden and Al-Awlaki," Mauro said. "We are going to see people radicalized by Al-Qaeda-type preaching but ultimately choosing to affiliate with ISIS."
We recently learned that Army Maj. Nidal Hasan, who killed 13 and injured 30 in a shooting at the Fort Hood military base in Texas back in 2009, wrote a letter to ISIS asking to become a citizen of the Islamic State's caliphate.
"I formally and humbly request to be made a citizen of the Islamic State," Hasan wrote in the letter. "It would be an honor for any believers to be an obedient citizen soldier to a people and its leader who don't compromise the religion of All-Mighty Allah to get along with the disbelievers."
Hasan's rampage, which is still classified as "work-place violence" at the behest of the new policies implemented under the Obama administration, was radicalized due to his inspiration from Al Qaeda and their former propaganda expert, Anwar al-Awlaki. The senior talent-recruiter and motivator was killed by a CIA-led drone strike in Yemen back in 2011. Hasan provides a stark example of the concerns held by U.S. intelligence officials, a "lone wolf" that was turned based on Al Qaeda's tactics, but emboldened by the ISIS advancements toward the goal of caliphate.
"The greatest threat is from a sympathizer of Islamist terrorists already here," Mauro said. "Given the attraction of ISIS right now, that is who the perpetrator would mostly likely identify with.