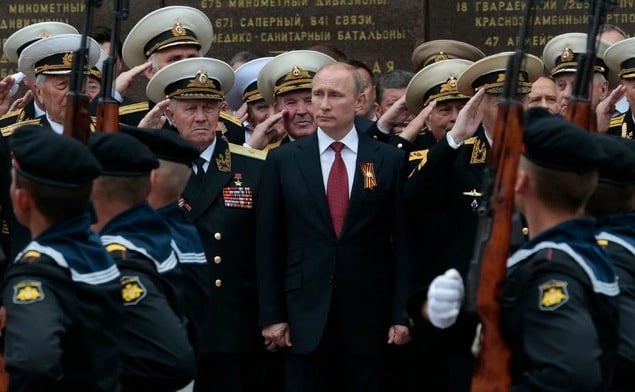 During the NATO summit last week, Russian bombers conducted a test-run in the North Atlantic to determine an optimum point for firing nuclear-armed cruise missiles at U.S. targets. Defense officials told the Washington Free Beacon that two Russian Tu-95 Bear bombers were tracked near Iceland, Greenland, and Canada's northeast.
The latest developments provide a cold reminder of U.S.-Russian tensions under the Obama administration that once sought a "reset" of relations, which former Secretary of State Hillary Rodham Clinton deemed successful. Clinton's comments were made in late July after the Russian annexation of Crimea and weeks of shelling from inside Russia into Ukraine.
Gen. Yuri Yakubov, a senior Defense Ministry official, was quoted by the state-run Interfax news agency as saying that Russia's 2010 military doctrine should be changes to reflect the United States and the NATO alliance as an enemy of Russia. Yakubov advocated for the document to identify the proper conditions for an acceptable preemptive nuclear strike against the U.S. and NATO allies.
While officials say neither the U.S. nor Canada chose to reponds due to the fact the two bombers were outside of the North American Air Defense Identification Zone, mum was the word on another incident that took place over the Labrador Sea between Greenland and Canada's Labrador Peninsula.
The Russian Tu-95 has the capability to carry out such a strike on the United States. It is a nuclear-armed bomber that can carry up to six AS-15 nuclear-armed cruise missiles, which have a range of over 1,800 miles. The report claims that a "Google Earth analysis reveals that a Tu-95 launch box located in the Labrador Sea and firing AS-15 missiles would be in range of Ottawa, New York, Washington, and Chicago, and could reach as far south as the Norfolk Naval base."
The sheer number of operations conducted in the region has hit a new high since the Cold War ended. In August, at least 16 such instances occured within the northwestern U.S. and Canadian air defense zones over a period of just 10 days. On June 9, according to the report, two Russian Bear bombers came within 50 miles of the California coast in what was the closest strategic bomber exercise near a U.S. coast since the end of the Cold War.