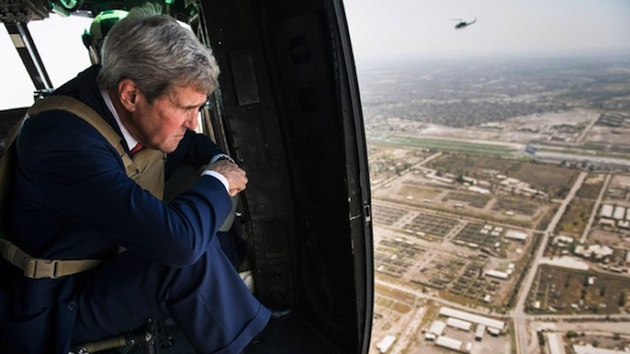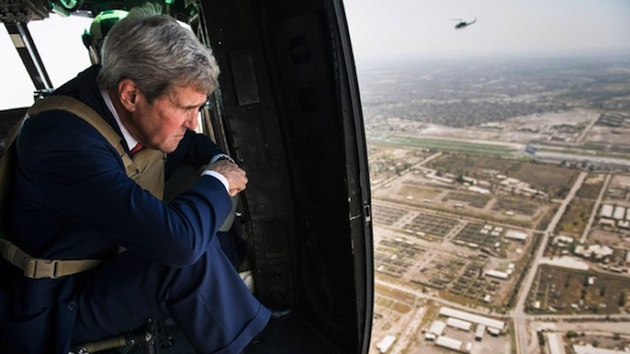 Secretary of State John Kerry mustered a 10-Arab state coalition that has signed on to "destroy" the Islamic State of Iraq and Syria, sort of. Egypt, Iraq, Jordan, Lebanon and the six Gulf Arab states — Saudi Arabia, Bahrain, Kuwait, Oman, Qatar and the United Arab Emirates — joined the pact that they say will help eliminate the new threat.
However, while Mr. Kerry said the Arab states would play a crucial role in the coalition, he added that no member of the alliance planned to send ground troops, something no credible military strategist has believed the mission can be accomplished without.
The joint statement was released after a day of talks on Thursday between Kerry and his regional counterparts in the Saudi city of Jeddah. For comparison, George W. Bush put together a coalition of over 40 countries before the invasion of Iraq.
"The participating states agreed to do their share in the comprehensive fight against ISIL, including," said the statement, "as appropriate, joining in the many aspects of a co-ordinated military campaign" against the ISIS terrorists.
They also explored strategies to "destroy" the group "wherever it is, including in both Iraq and Syria".
Kerry sought approval to make more use of military bases in the region, particularly in Saudi Arabia, and fly more warplanes in coalition state airspace.
But the jointly released statement made no mention of these issues, although the controversial nature of training Free Syrian Army soldiers in the Islamic Holy Land of Saudi Arabia may provide some explanation as to why they would keep it quiet.
Supposed NATO ally Turkey attended the meeting, but would not sign the final agreement. Iran, the regional Shia powerhouse, was quick to level criticism of the Gulf Arab states. Iran said it blames them for the Sunni militancy that led to the rise of ISIS.
Foreign ministry spokeswoman Marzieh Afkham, speaking on state television about the US-led alliance, said there were "severe misgivings about its determination to sincerely fight the root causes of terrorism".
Moscow's foreign ministry said the prospect of U.S.-led air strikes in Syria would require a UN Security Council mandate or they will consider the campaign an act of aggression.
Meanwhile, the CIA said Thursday that the number of Islamic State fighters has grown to as many as three times previous estimates. A spokesperson for the agency told PPD that the terrorists army has between 31,500 – 40,000 battle-hardened fighters across Iraq and Syria.
The new numbers are a big jump from the previous estimate claiming there were somewhere in the neighborhood of 10,000 ISIS fighters.