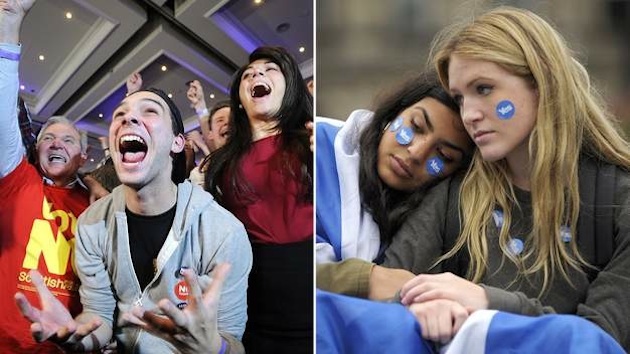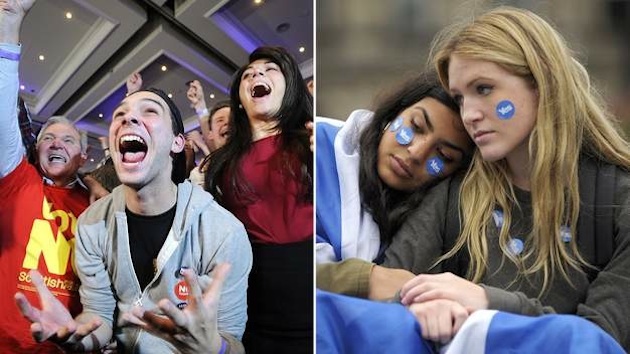 It became clear rather early in the night that the Better Together campaign would be successful, as Scots voted 55 percent to 45 percent to reject Scottish independence. The historical referendum gained more traction than separatist movements in the past, but in the end, not even allowing 16-year old Scots thought to have greater socialist tendencies could put the "Yes" campaign leader Alex Salmond in power.
"Like millions of other people, I am delighted," Prime Minister David Cameron said in a speech outside 10 Downing Street on Friday morning. "It would have broken my heart to see our United Kingdom come to an end."
"The people of Scotland have spoken," Alistair Darling, leader of the "Better Together" campaign said early Friday after the result was confirmed. "We have chosen unity over division."
There were serious warnings issued prior to the vote.
RBS, which has been based in Scotland since 1727 and employs 11,500 people there, also confirmed it would be moving its headquarters to London if Scotland voted for independence. The International Monetary Fund (IMF), meanwhile, said a vote for independence could have a negative effect on the markets in the short-term because of "uncertainty".
"If we were no longer to operate in one state with one market and – broadly – one set of rules, our business model would inevitably become more complex. We would have to reflect our cost to operate here," Asda CEO Andy Clarke said last week.
"This is not an argument for or against independence, it is simply an honest recognition of the costs that change could bring."
Scotland's Clydesdale Bank also confirmed it would be re-registering in England if voters opted for independence, and Standard Life, which employs 5,000 in Scotland, said it would move some operations south of the border.
Salmond conceded defeat, saying "we know it is a majority for the No campaign" and called on Scots to accept the results of the vote.
He said the vote "has been a triumph for the democratic process."
Responding to earlier promises for change that would grant Scotland new powers, Cameron said he wasn't simply making a campaign promise. Cameron said the new powers he, Nick Clegg and Ed Miliband had promised to Scotlan would be "honored in full."
The results came from a record 84 percent turnout, with "Yes" seeing victories in only Dundee and the nation's largest city Glasgow.
Queen Elizabeth II was expected to give a statement Friday afternoon, Sky News reported.