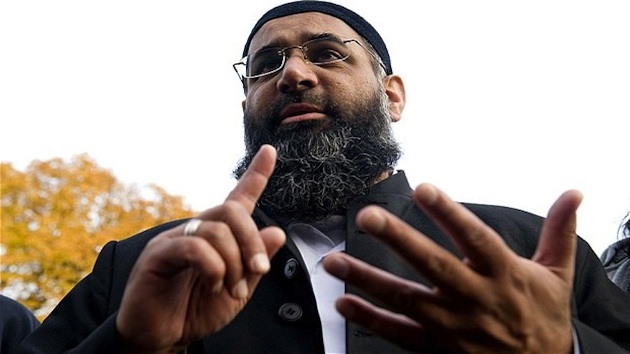 Radical London imam Anjem Choudary was one of nine men arrested by Scotland Yard as part of a major investigation into Islamist terrorism. Choudary tweeted a number of controversial tweets shortly before his arrest by Metropolitan Police, claiming in one that "it has already been foretold by Muhammad(saw) that Muslims & Christians will fight a big battle in As-Sham & that Muslims will prevail."
https://twitter.com/anjemchoudary/status/514999043735699456
A spokesman from Scotland Yard said the men were arrested and detained on suspicion of being members of, or supporting, a banned organization, and that all nine men were between the ages of 22 to 51. The nine men arrested in the string of raids were aged 51, 47, 39, 38, 36, 32, two 31-year-olds and a 22-year-old. The majority are under 40 years of age.
Al-Muhajiroun is, in fact, the banned organization in question, according to reports. The police investigation is also taking a look at potential publication of illegal terrorism material. It has been well-established that Choudary has long-standing ties with Omar Bakri Mohammed, another radical imam involved in Al-Muhajiroun and another radical group, Hizb ut-Tahrir. However, Omar Bakri fled Britain in 2005 and was banned from returning by the then home secretary.
Up until now, Choudary had been pretty adapted at walking the line between legal and illegal, or outspoken and radical. He began truly coming out of his skin following the bombings of the ISIS terror army in Iraq. Another tweet sent shortly before his arrest proclaimed his belief that ISIS rerpresented the real brand of Islam, and that the campaign against ISIS was really a war against "Islam & Muslims."
https://twitter.com/anjemchoudary/status/514992331268055041
Yet another tweet went even further, offering a true justification for the violence ISIS perpetuates not only on non-Muslims, but Muslims by majority they deem unworthy, such as Shia denominations.
https://twitter.com/anjemchoudary/status/514994030611296256
"These arrests and searches are part of an ongoing investigation into Islamist related terrorism and are not in response to any immediate public safety risk," the spokesman said.
The men are being held on suspision of being members of a proscribed (banned) organization, supporting a proscribed organization contrary to Section 11 and 12 of the Terrorism Act 2000 and encouraging terrorism, contrary to Section 1 of the Terrorism Act 2006.
Eleven of the raided properties were in east London, one in west London, one in north-west London and five in south London. Scotland Yard did confirm police hit a total of 19 addresses shortly after 5 AM (local time)this morning. The arrest operation, run by 'SO15', the Met's Counter-Terrorism Command, was thought to have involved more than 100 officers in total.
Britain has long had a Nile Gardiner, a leading authority on transatlantic relations and director of The Heritage Foundation's Margaret Thatcher Center for Freedom, says Britain's overtly tolerant society has been exploded by Islamists. But since the beheading video of American journalist James Foley surfaced, in which the ISIS executioner is clearly heard talking with a British accent, U.K. Prime Minister David Cameron has kicked up efforts to crack down on homegrown terrorism.
Recent reports claim the U.S. has identified "Jihad Johnny," otherwise known as the ISIS executioner in at least the first video, but PPD reported on August 24 that 23-year-old, British-born and London-based rapper Abdel Majed Abdel Bary is the suspect believed to be James Foley's executioner. He is but one member of a three-person group known among former hostages as "The Beatles."
It is thought to be another British, very faint voice heard on the video depicting the beheading of another American journalist Steven Sotloff. Following the release of a third video, Choudary said he had no sympathy for British-born Alan Henning, a volunteer aid worker captured in Syria and is now threatened to meet the same fate at the hands of the Islamic State.
"In the Koran it is not allowed for you to feel sorry for non-Muslims," Choudary said. "I don't feel sorry for him."
Western intelligence agencies largely agree that the videos are used by ISIS not only to provoke a response, but for recruiting efforts. According to another tweet from Choudary, ISIS has and will continue to use the air campaigns to further those recruiting efforts.
https://twitter.com/anjemchoudary/status/514995497401348096
Sean Hannity interviewed the imam once portrayed as a moderate in late August, but he quickly snapped on national television shortly after discussing the beheading of American journalist James Foley. Choudary admitted that the true goal of Islam was to establish a world-wide caliphate, an intolerant theocratic society where Sharia law is the only law, and openly mocked Americans for believing their goal is anything other.
"You don't have a choice," he said. "It's coming to you in America."
https://twitter.com/anjemchoudary/status/514996848495702016