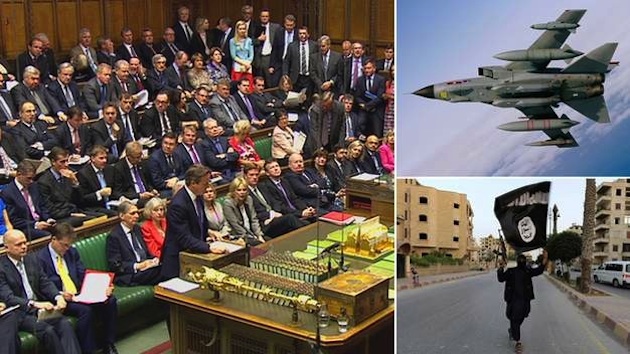 Moved by a passionate plea from Prime Minister David Cameron, British lawmakers overwhelmingly voted Friday to join the U.S.-led coalition and launch airstrikes on Islamic State terror army in northern Iraq. Airstrikes from the Royal Air Force could begin as early as this weekend or even within a few hours, but the motion did not endorse airstrikes in Syria.
Before Parliament approved the measure by 524 votes to 43 — an enormous majority of 481 — Cameron told the Commons debate that Islamist State terrorists "have already murdered one British hostage" and are "threatening the lives of two more."
He said the ISIS threat was "a terrorist organization unlike those we have dealt with before," laying out the human consequences of inaction in very drastic terms.
"The brutality is staggering – beheadings, crucifixions, the gouging out of eyes, the use of rape as a weapon, the slaughter of children," Cameron added. "All of these things belong to the dark ages."
"There isn't a walk-on-by option; there isn't an option hoping it will all go away," he said. He characterized the Islamic State as "psychopathic terrorists trying to kill us."
Still, despite the moving speech and overwhelming vote, not all members of the Parliament were on board and, in fact, one decided to resign over the vote.
Labour MP Rushanara Ali, a frontbencher, immediately resigned after the vote result was announced aloud. Labour leader Ed Miliband was heard reassuring her after her decision.
"I know that you have thought long and hard about this. I respect and accept your resignation."
Tory rebel John Baron, who also voted against the measure, said that airstrikes alone would not defeat the Islamic State and may just do more harm than good. However, he was not advocating for any alternative, particularly not one that would increase the scope of Britain's involvement.
"We should have learned from previous interventions that just kicking the door down and walking away is not the right policy," he said.
Cameron addressed those concerns in his floor speech to Parliament, stating that the shadow of the 2003 decision to join the U.S.-led invasion of Iraq "hangs heavy" over the vote. However, he argued that pointing to a wrong decision now is no excuse for making another one.
"We must not use past mistakes as an excuse for indifference or inaction."
Earlier in the day, Belgium and Denmark also voted to join the coalition. American warplanes and drones hit Islamic State tanks and Humvees — formerly American weaponry and vehicles taken when Fallujah and Mosul fell due to inaction by the U.S. administration — at checkpoints and bunkers Friday.
Denmark confirmed a contribution of seven F-16 fighter jets and 250 pilots along with support staff, while Belgium said it is sending six F-16s that are already en route to Jordan. Belgium will see action as early as Saturday.
"No one should be ducking in this case," said Danish Prime Minister Helle Thorning-Schmidt. "Everyone should contribute."
Meanwhile, Britain has six Tornado GR4 fighter bombers in Cyprus ready to strike northern Iraq, a contribution that Cabinet minister Kenneth Clarke said would make the U.K.'s military contribution "almost symbolic."
The planes have been in RAF Akrotiri for the past six weeks carrying out surveillance missions in the Middle East.
While the once-closest U.S. ally appears to be unified now, it remains to be seen how long that unity will hold as operations get underway, or potentially escalate.
Mr. Miliband said he understood the opposition's concerns about military intervention, but said the U.K. could not stand by in the face of the threat such as this.
"ISIL is not simply a murderous organisation; it has ambitions for a state of its own – a caliphate across the Middle East, run according to their horrific norms and values," he said.