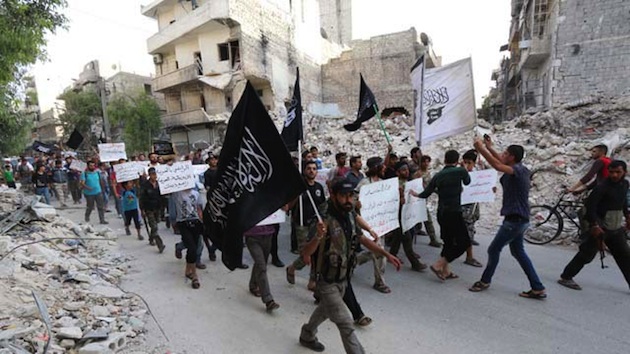 The U.S. has been stockpiling mass quantities of weapons and gear in Kuwait to prepare for a possible coordinated attack against the terrorist group ISIS, according to U.S. News & World Report.
The military gear is being stored near a busy commercial port, which is now the place where roughly 3,100 vehicles — mostly ambush-protected vehicles known as MRAPs — are parked, in addition to electronic equipment and other supplies, the magazine reported, citing defense officials.
Earlier this month, PPD reported that President Obama ordered 250 hardened paratroopers from the Army's 82nd Airborne Division to deploy to Iraq at the end of December. The order from the White House was first announced by the administration on November 7, but garnered little attention from media outlets.
Now the military equipment, which is reportedly primarily supplied by the U.S. Army, will be assessed for use as strategists decide what the coalition forces will need to defeat Islamic State, also known as ISIS.
"From June to December, we've worked a lot on moving items into Kuwait," Air Force Maj. Gen. Rowayne "Wayne" Schatz, the director of operations and plans for U.S. Transportation Command, told U.S. News. "The Army is holding the gear there, and it has room to hold it, as the mission fleshes out."
The U.S. military reportedly is planning a massive spring offensive to help Iraqi and Kurdish Peshmerga fighters take back territory from Islamic State. But Lt. Gen. James Terry said, "I don't want to disclose any timelines."
The original plan, which included destroying, selling or giving away as much as $7 billion worth of equipment in Afghanistan to aid the war effort there, was scrapped as the rise of Islamic State — also known as ISIL or by "Daesh," its Arabic acronym — prompted the military to stash some of that equipment back toward Iraq.
More than 1.1 billion pounds of equipment has been turned into scrap materials, U.S. News reported, citing documents the magazine was given by the Defense Logistics Agency.
Some of the excess equipment, known as "white goods" – like power tools, air conditioners and tractors – is sold in yard sales that have brought in roughly $2 million to date.
As many as 140,000 people and 333,000 tons of cargo shipments that have included thousands of vehicles and 20-foot shipping containers were moved so far this year.