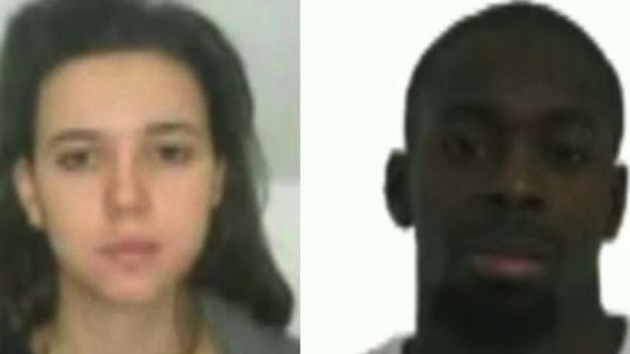 UPDATE: Significant amount of gunfire and incendiary explosions as a result of an assault by French forces on the print plant where the Charlie Hebdo terror suspects in the Paris attack were held up with hostages.
The standoff with the two Islamic radicals responsible for the Paris attack on the satirical newspaper Charlie Hebdo took a worse-case scenario turn on Friday, as two other attackers have taken hostages in a Jewish kosher deli in east Paris.
Amedy Coulibaly, 33, and his apparent girlfriend, Hayat Boumeddiene, 26, are though to be linked to the earlier attack and part of the same terror cell as brothers Said Kouachi and Cherif Kouachi, whose DNA was found in the couple's apartment. Officials confirm Coulibaly, who was quoted as saying "you know who I am," was known to the police and had a long criminal history going back to his youth.
Boumeddiene, his girlfriend, had been brought in for questioning by French intelligence officials on suspected terrorism acts recently. While she remains at large in the city of Paris, Coulibaly has demanded police let "my brothers in jihad go, or I will kill the hostages."
French police on Friday exchanged gunfire with brothers Said and Cherif Kouachi, as they chased them to an office complex in the northeast Paris area of Dammartin-en-Goele, home to about 8,000 people. Authorities surrounded a print shop where the men took at least one hostage and have spoken to the brothers by phone, where the they declared their intention to "die as martyres." Police have essentially shut down the line of telecommunications and the Internet in the town, which is near Charles de Gaulle Airport.
The hostage takers at Hypercacher (Hyper Kosher) are suspected in the murder Thursday of Paris Police Officer Clarissa Jean-Philippe as she attended to a routine traffic accident in the city.
Meanwhile, Yemeni security officials have confirmed Said Kouachi, 34, is suspected of fighting with al-Qaeda, and was in the country until 2012. A source in the U.S. intel community told PPD he met with U.S.-born radical preacher Anwar al-Awlaki in Yemen in 2011, not long before a drone strike killed him September of that year.
"We have confirmed that he did, in fact, meet with al-Awlaki shortly before his death," the source said.
Cherif, 32, served 18 months in jail after he attempted to travel to Iraq and fight with an Islamist cell, and it was learned he was part of a terror cell that sent volunteers to Iraq to fight against the United States.