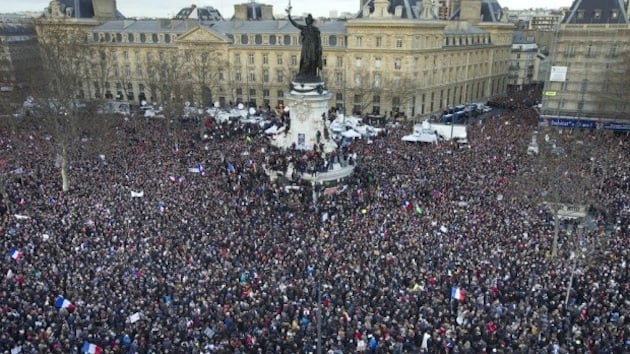 Nearly 50 world leaders walked arm-and-arm in a Paris rally Sunday to honor those who died in a series of terror attacks, but President Obama was a very noticeable no-show.
"Today, Paris is the capital of the world," said French President Francois Hollande. "Our entire country will rise up toward something better."
Though the official estimate on attendance is due to be announced later, the French Interior Ministry called the rally "unprecedented" and said the demonstrators were so numerous they spread beyond the official march route, making them impossible to count.
German Chancellor Angela Merkel, British Prime Minister David Cameron and Italy Prime Minister Matteo Renzi were among 44 foreign leaders marching with Hollande in a show of solidarity. U.N. Secretary-General Ban Ki-moon, Israel's Benjamin Netanyahu – who are often at odds, but together encouraged French Jews to emigrate to Israel – walked side-by-side with Palestinian President Mahmoud Abbas.
Israel's Netanyahu and Palestinian President Mahmud Abbas join solidarity march in Paris. AFP Photo: Philippe Wojazer pic.twitter.com/mLwrc6qY7Q

— AFP news agency (@AFP) January 11, 2015
Roger Cukierman, the head of France's 550,000-strong Jewish community, which is by far the largest in Europe, said Hollande had promised that Jewish schools and synagogues would have extra protection, by the army if necessary.
France's Agence Juive, which tracks Jewish emigration, has reported estimates in excess of 5,000 Jews who left France for Israel in 2014, up from 3,300 in 2013, which was already a 73 percent increase on 2012.
President Obama has been no friend of Prime Minister Benjamin Netanyahu, as is now secret, but it remains unclear why he didn't participate in the historic show of unity. Instead, while those in attendance marching were heads of state, the White House sent Attorney General Eric Holder to meet with allies, himself a weak-on-terror officials not even a member of the president's cabinet.
Meanwhile, while Hollande has received a bump in his poll numbers — by a rough 10-points — he is still widely unpopular and considered too weak to handle France's greater problem. National Front leader Marine Le Pen has had a huge bump in the polls due to the attacks, making her the most popular politician in the nation. She said her anti-immigrant party had been excluded from the Paris demonstration and would instead take part in regional marches, which have drawn roughly 1 million demonstrators, according to Agence France-Presse.
In the last election, Le Pen's party received a significant 25 percent of the popular vote, a number experts expect to be dwarfed in the upcoming election.