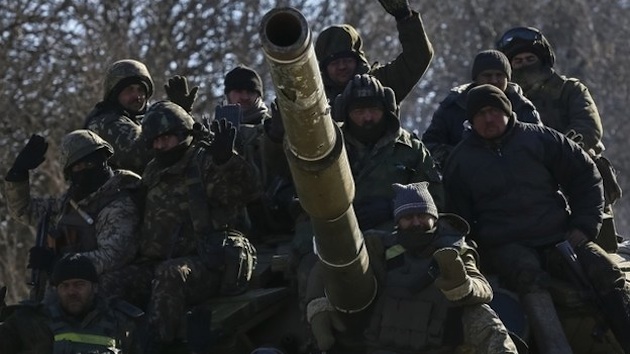 Ukrainian troops are retreating from the strategic town of Debaltseve in the country's east, where they were defeated by Russian-backed separatist forces and have engaged in an intense fight for control of the railway hub.
"This morning the Ukrainian armed forces together with the National Guard completed an operation for a planned and organized withdrawal from Debaltseve," Ukrainian President Petro Poroshenko said in a statement before traveling to the frontline in the east. "As of now we can say that 80% of our units have left. We are expecting another two columns [to leave]."
The loss of Debaltseve is a major strategic and even political defeat for the Ukrainian army, which had desperately tried to hold the city and prevent Putin's separatists from consolidating the territory under their control. By seizing Debaltseve, the separatists now control the railway junction linking the rebel-held cities of Luhansk and Donetsk. Moreover, the fall of Debaltseve has eliminated a pocket of Ukrainian army control along the front-line that stretches between those two cities.
Russia's foreign minister claimed Ukrainian forces had been encircled and were forced to battle their way out, a claim that Ukrainian officials have disputed. He urged the separatists to provide troops who surrendered with food and clothes after rebel military spokesman Eduard Basurin, claimed hundreds of Ukrainian soldiers there had given themselves up.
"I'm reckoning that common sense will prevail," said Sergei Lavrov.
Kiev has admitted that some soldiers were taken prisoner in Debaltseve, but gave no details on how many were seized.
"We were not encircled," President Poroshenko said.
The fall of Debaltseve comes on the heels of a cease-fire agreement signed in Minsk that was supposed to have stopped fighting around the city. A spokesman for German Chancellor Angela Merkel condemned the separatists offensive and said that the fighting constituted a violation of the cease-fire agreement.