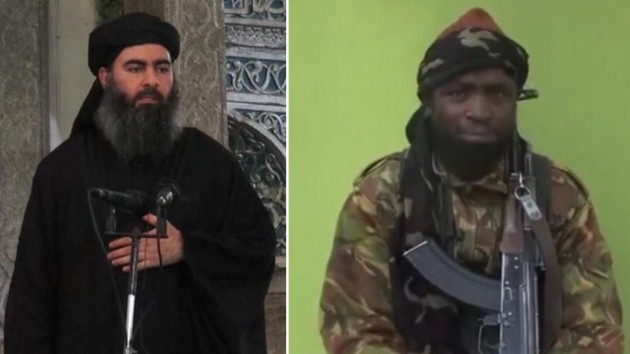 Just one week after reportedly considering swearing allegiance to the Islamic State, Boko Haram leader Abubakar Shekau has done just that in an audio released Saturday via Twitter.
"We announce our allegiance to the Caliph [al-Baghdadi] of the Muslims … and will hear and obey in times of difficulty and prosperity, in hardship and ease, and to endure being discriminated against, and not to dispute about rule with those in power, except in case of evident infidelity regarding that which there is a proof from Allah," Shekau said in the message.
Listen to the audio statement and read the subtitles in English, French:
[brid video="7260″ player="1929″ width="630″ height="354″]
The message was posted on Twitter, hours after Boko Haram was blamed for four suicide bomb attacks in northeastern Nigeria that killed at least 54 people and wounded more than 140 people, and as they gather in a town near the border of Cameroon to confront a multinational force that has run them out of several towns in recent weeks.
An intelligence official told PPD they were aware of the militant group's movement, however, many civilians are still in the town and Boko Haram is laying land mines around it.
Boko Haram began publishing videos of beheadings similar to those seen by ISIS, the latest of which was published on March 2. It, too, included the sound of a beating heart and heavy breathing immediately before the execution.
In earlier video messages last year, Shekau sent greetings and praise to both al-Baghdadi and the leaders of al-Qaeda. But Boko Haram has never been an affiliate of al-Qaeda, due in large large part to the fact al-Qaeda beleives the Nigerian group's wholesale and indiscriminate slaughter of Muslim civilians was un-Islamic. Consequently, al-Qaeda also denounced the Islamic State for their tactics.