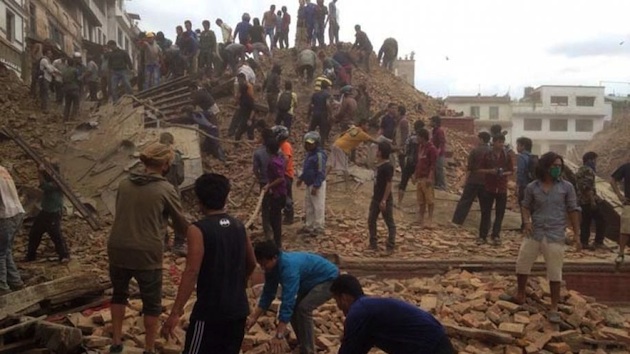 A magnitude-7.8 earthquake rocked Nepal's densely populated capital and the entire Kathmandu Valley on Saturday, with at least 906 people confirmed dead. While an intense search is underway, 181 of the deaths are from the capital, Kathmandu alone.
It is the worst quake in the Himalayan nation in over 80 years, according to The Associated Press, which claimed lived across four countries. According to officials, 20 were killed in India, 6 in Tibet, 2 in Bangladesh, and 2 Chinese citizens who died at the Nepal-China border.
In addition to hundreds of homes being leveled, temples dating back hundreds of years were also destroyed and the powerful quake set off avalanches on Mt. Everest. The nine-story Dharahara Tower, one of Kathmandu's landmarks built by Nepal's royal rulers as a watchtower in the 1800s and a UNESCO-recognized historical monument, has been reduced to rubble and there were reports of people trapped underneath the debris.
The Nepal earthquake, the epicenter of which was 80 kilometers (50 miles) northwest of Kathmandu, measured at a preliminary 7.8 magnitude and hit just before noon. It had a depth of only 11 kilometers (7 miles), which is considered shallow in geological terms, but far more dangerous. The shallower the quake, then the more destructive it is.
Another magnitude-6.6 aftershock hit about an hour later, with smaller aftershocks continued to ripple through the region for hours.
Dozens of people with injuries were being brought to the main hospital in central Kathmandu, but the quake will put a huge strain on the already finite resources of the poor country known for Everest, the highest mountain in the world. The economy of Nepal, a nation of roughly 27.8 million people, is heavily reliant upon tourism, particularly form visitors and adventurers hoping to take part in the famed Himalayan mountain climbing.
Sky News reported that the "huge avalanche" partially buried the Everest Base Camp. An official with Nepal's mountaineering department says the bodies of eight people have been recovered, though their nationalities were not immediately clear.
The earthquake also shook several cities across northern India, and was felt as far away as Lahore in Pakistan, Lhasa in Tibet, and in Dhaka, Bangladesh. Following the quake, Kathmandu's international airport was shut down.
The U.S. Geological Survey says it was the largest shallow quake since the 8.2 temblor off the coast of Chile on April 1, 2014.