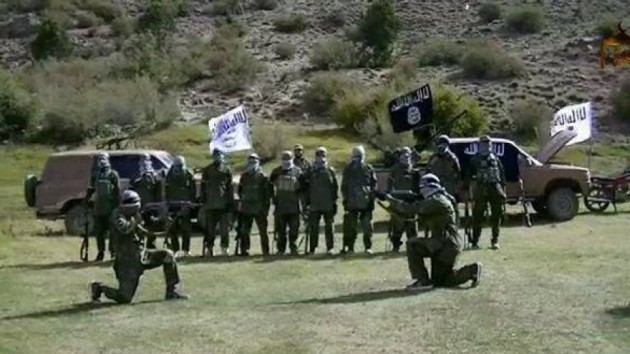 The presence of ISIS in Afghanistan is growing, as new photos emerge showing an Islamic State training camp that is operated in the eastern Afghan province of Logar. The Islamic State's "Khorasan Province," which is named after a Taliban commander who was killed in 2012, is in full promotion and propaganda mode at the Ustad Yasir camp.
Three photographs of Ustad Yasir camp, named after one of 26 senior and mid-level Taliban leaders killed in 2012, were obtained by journalist Saleem Mehsud and initially published on his Twitter account on April 18. The images were emailed to the Pakistani reporter, Mehsud told The Long War Journal. Yasir served as the head of the Taliban's Recruitment Council before his death.
The camp, which is located near the Pakistani border, is run by the Sa'ad bin Abi Waqas Front, the group named after Sa'ad bin Abi Waqas, an al Qaeda emir in Kunar province who was killed by the U.S. military in an airstrike on April 14, 2011.
The Sa'ad bin Abi Waqas Front is led by Sa'ad Emarati, a former Pakistan Taliban commander who defected to the Islamic State's Khorasan Province last year along with other disaffected Taliban commanders from Afghanistan and Iraq. But Emarati's story is hardly unique.
The photos shine a light on the latest expansion of ISIS in Afghanistan, the country used as a launching pad for the September 11, 2001 attacks on the World Trade Center, the Pentagon, and other targets. The Islamic State, otherwise known as ISIS or ISIL, have been engaged in efforts
PPD previously reported in January that Mullah Abdul Rauf, a former Taliban commander and prisoner at Guantanamo Bay released by the Obama administration, is currently in charge of recruiting members of the Taliban in a nearby province. Rauf is even tapping tribal leaders that deal directly with the western-backed government.
"Many tribal leaders, jihadi commanders, some ulema [members of the religious council] and other people told me that Mullah Rauf had contacted them and invited them to join him," General Mahmood Khan, the deputy commander of the army's 215 Corps said.
General Khan, the head of the Afghan army unit responsible for the Helmand province, said those recruited by Rauf have been replacing white Taliban flags with the black flag of ISIS, left and right. He said they were trying to win popular support for ISIS among these groups, because they were "preparing to fight" in the spring.
[brid playlist="349″ player="1929″ title="Islamic Terrorism"]