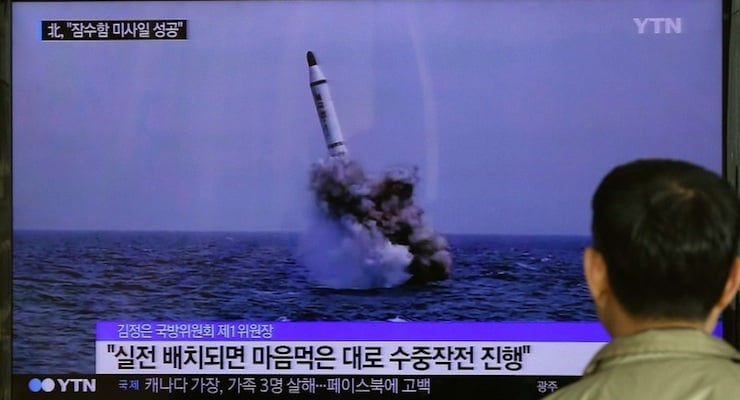 North Korea claimed Wednesday that it has successfully manufactured mini nuke warheads that are small enough to fit on the head of a nuclear submarine. The announcement comes after the regime openly conducted submarine-based missile launch tests that are of growing concern to South Korea.
"It is long since the DPRK's nuclear striking means have entered the stage of producing smaller nukes and diversifying them," a spokesman for North Korea's National Defense Commission told Yonhap News. "The DPRK has reached the stage of ensuring the highest precision and intelligence and best accuracy of not only medium- and short-range rockets, but long-range ones."
Pyongyang also claimed earlier in May that it successfully test-fired a newly developed ballistic missile from a submarine, yet another display of the potential military advancements made even in isolation. Hours after the announcement, South Korean officials said the North fired three anti-ship cruise missiles into the sea off its east coast.
North Korean dictator Kim Jong Un personally oversaw the submarine-based missile test and called the missile a "world-level strategic weapon" that went off with "eye-opening success," according to the North's official Korean Central News Agency, or KCNA. The exact timing or location of the launch, but it is believed to have occurred sometime around May 9.
Kim boasted that North Korea now has a weapon capable of "striking and wiping out in any waters the hostile forces infringing upon the sovereignty and dignity of (North Korea)."
Experts say that if Pyongyang has mastered the technology to build a nuclear weapon small enough to fit atop its new submarine-fired intercontinental ballistic missile, it would be an alarming development. Submerged vessels are significantly harder to detect than land based delivery systems, particularly before a hypothetical intercontinental launch. It is a real concern that it could be fired at the U.S. mainland.
While the Pentagon did not immediately respond to a request for comment, South Korea's defense ministry did confirm that they believe Pyongyang has roughly 70 submarines of Russian design. The North is believed to have obtained several of Russia's Navy's retired Golf-class ballistic missile submarines in the mid-1990s following the fall of the Soviet Union.
At the U.S. State Department and the U.N., officials responded to the threat with the usual empty rhetoric. A spokesman at the State Department claimed the administration was aware of the reports, but only said the test launches are "a clear violation" of multiple U.N. Security Council resolutions. That sentiment was echoed by U.N. Secretary-General Ban Ki-moon, who plans to visit an inter-Korean industrial complex in its border city of Kaesong on Thursday.
While U.S. and U.N. officials talk, Pyongyang's neighbor grows more concerned. A South Korean Joint Chief of Staff official told Stars and Stripes that the North fired three anti-ship cruise missiles into the sea within a span of one hour early Saturday evening from an area near the eastern port city of Wonsan. The official, who spoke on condition of anonymity, identified the missiles as KN-01 missiles, which the North also test-fired in February in an event personally attended by North Korean leader Kim.