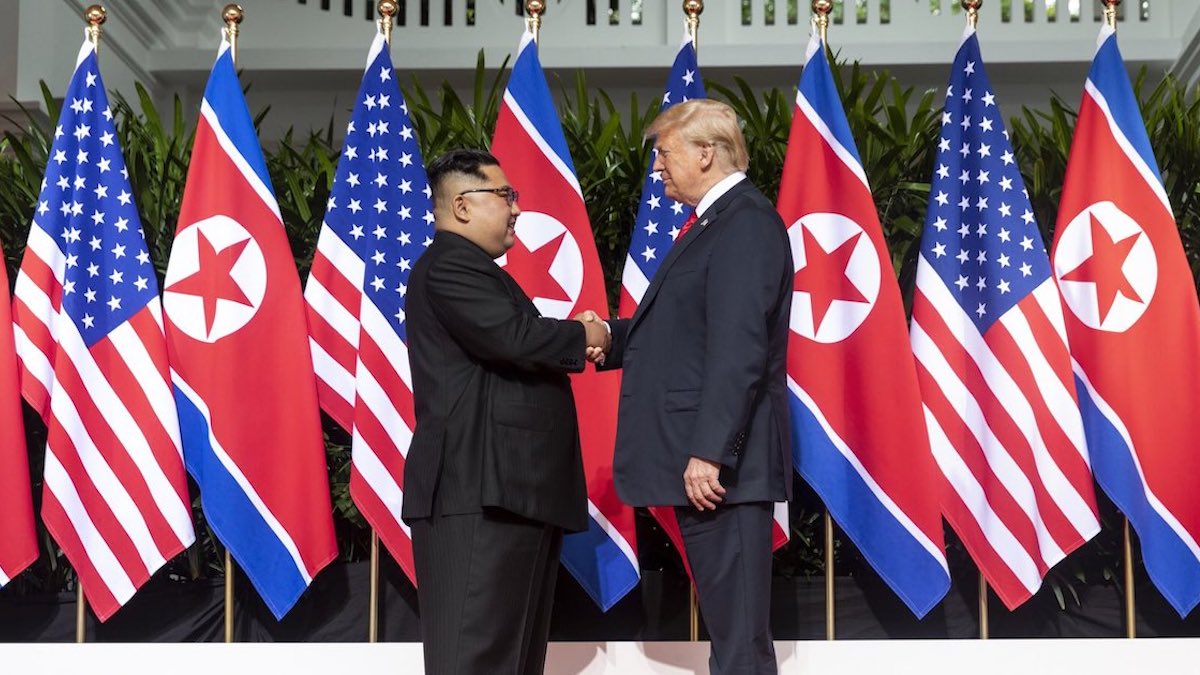 North Korean Chairman Reportedly Underwent Surgery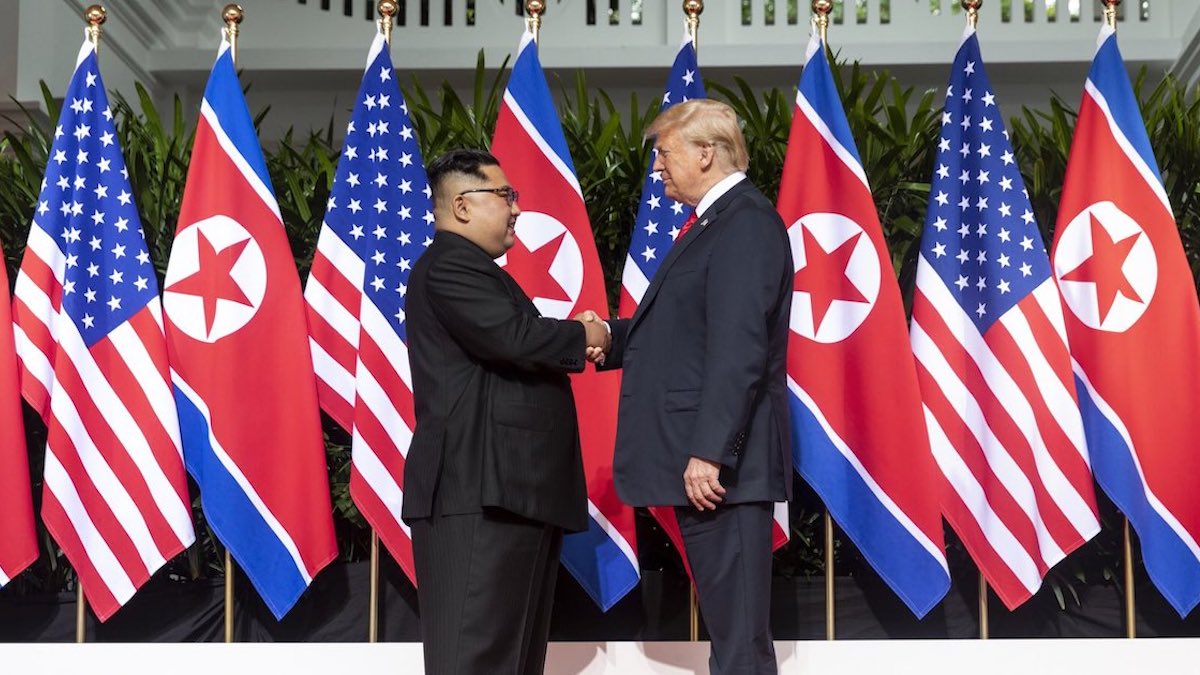 Speculation over the health of North Korean leader Kim Jong Un is running amok after two online reports suggested it was on the decline after surgery.
Daily NK, an online newspaper run mostly by defectors based in South Korea, reported that Chairman Kim received a cardiovascular system procedure on April 12. The report stated the surgery was due to "excessive smoking, obesity, and overwork." It claimed he was now receiving treatment in a villa in Hyangsan County.
The news site reported doctors assessed that Chairman Kim's condition had improved, and that most of the medical team returned to Pyongyang on April 19. A few of them remained in Hyangsan to oversee his recovery, according to the report.
"My understanding is that he had been struggling (with cardiovascular problems) since last August but it worsened after repeated visits to Mount Paektu," a source was quoted as saying, referring to the country's sacred mountain.
CNN reported the communist dictator was "in grave danger" after the surgery, citing a U.S. official with direct knowledge. Another U.S. official told CNN that the concerns over Chairman Kim's health are credible, but that it is difficult to assess the severity of his condition.
People's Pundit Daily (PPD) has been unable to independently confirm either report. Katy Tur at NBC News posted a tweet claiming Chairman Kim was "brain dead" before deleting it "out of an abundance of caution".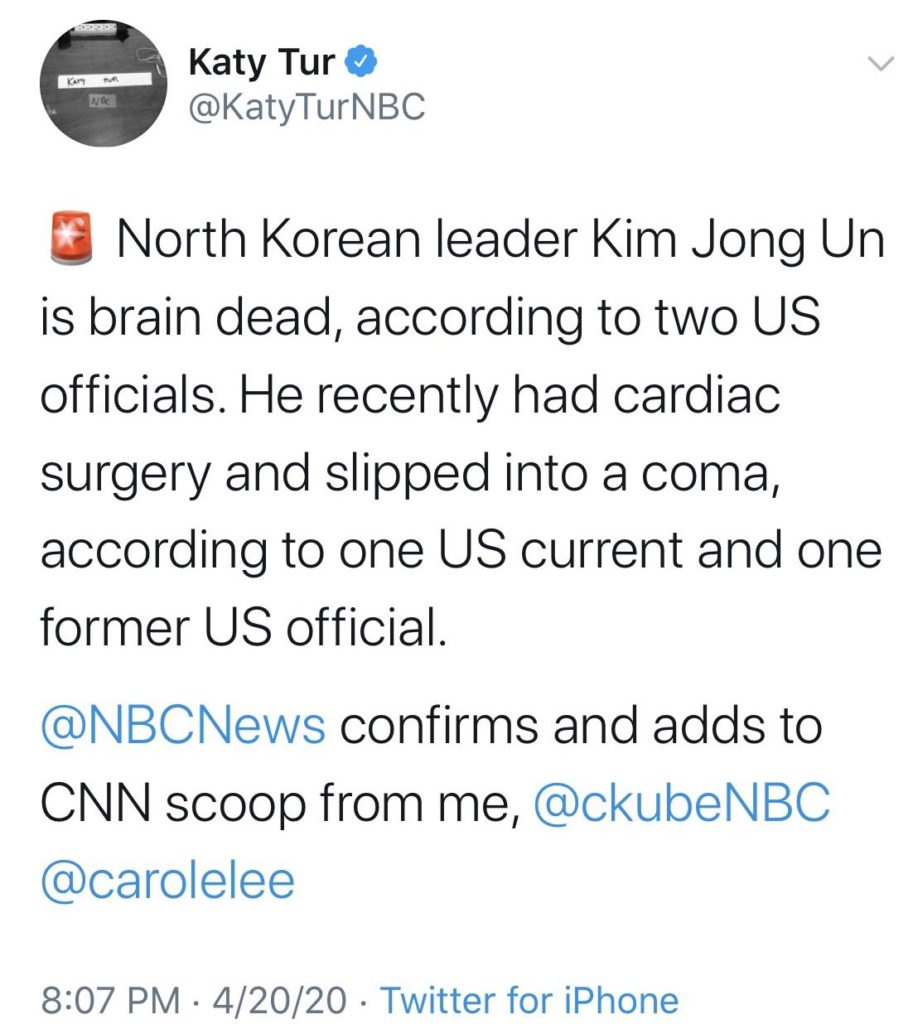 "I've deleted that last tweet out of an abundance of caution," she wrote. "Waiting on more info. Apologies."
Also citing multiple U.S. officials, Jack Posobiec of One American News Network posted in a tweet that Chairman Kim had caught the coronavirus (COVID-19) from a Chinese doctor. He reported he was "in stable condition for now."
Chairman Kim last appeared on North Korean state-run media on April 11. He presided over the Workers' Party's politburo. On April 15, North Korea held a national holiday marking the anniversary of the birthday of its founding father, Kim Il Sung.
But Chairman Kim was not in attendance for the ceremony celebrating his grandfather. Of note, the regime fired multiple short-range missiles during the ceremony, an event typically observed by the chairman.
In 2008, Kim Jong Il was absent from North Korea's 60th anniversary, leading to similar speculation. It was later revealed he had a stroke. His health never fully recovered and in fact continued to decline until his death in 2011.
Worth noting, intelligence gathering and media reporting on North Korea are notoriously difficult. The communist government keeps information close to the vest, particularly when dealing with leadership.