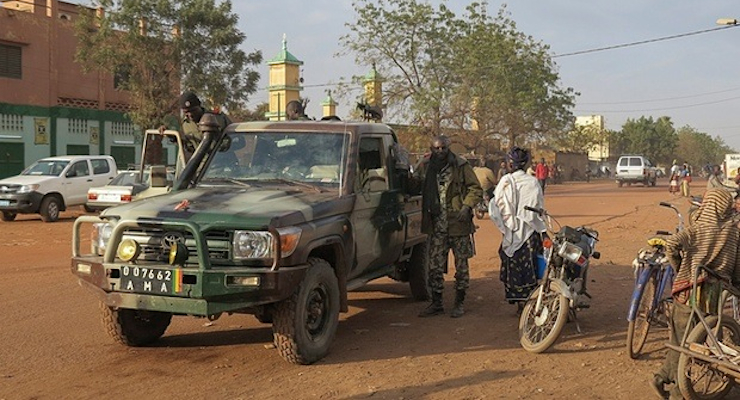 (SEVARE, Mali) On Friday, the Associated Press reported on two Islamist attacks on hotels in Sevare, Mali. According to the report given by Malian Lt. Col. Diarran Kone, "the Islamic militants assaulted one hotel in the town of Sevare, and then after an exchange of gunfire moved on to the Hotel Byblos next door where they grabbed between six and ten people."
Today, after a pre-dawn raid by Malian paramilitaries, the BBC reported that "at least three gunmen are dead and seven have been arrested, while five Malian soldiers were said to have been killed in the attack.
According to UN personnel, two South Africans, one Russian and one Ukrainian walked out alive from the hotel. They were hiding inside the hotel and had not been found by the Islamists. UN personnel reported that they had been in contact with the survivors throughout the ordeal.
Four victims of the attack were found inside the Byblos Hotel. One of the victims of the Islamist attack was a South African who "was attached to an aviation company rendering services to the UN contingent in Mali," according to a tweet by South African Foreign Ministry spokesman Nelson Kgwete.
The deceased SA national was attached to an aviation company rendering services to the UN contingent in Mali.

— Nelson Kgwete (@NelsonKgwete) August 8, 2015
The BBC report revealed a UN spokeswoman had reported that the attacks on the hotels occurred after an attack on a Malian army facility only 20 meters from the hotel. The attack included armed men on motor bikes, which left 13 dead.
Northern Mali has been under a series of Islamist attacks since the French left in 2013, giving control to the UN after rendering assistance and freeing much of the country from Islamist control in January 2013. Past attacks of a similar nature have been claimed by Ansar Dine. The government of Qatar has been accused of funding their projects in the past.
Ansar Dine is an associate of Al Qaeda and the Muslim Brotherhood.
[mybooktable book="civilization-jihad-and-the-myth-of-moderate-islam" display="summary" buybutton_shadowbox="true"]