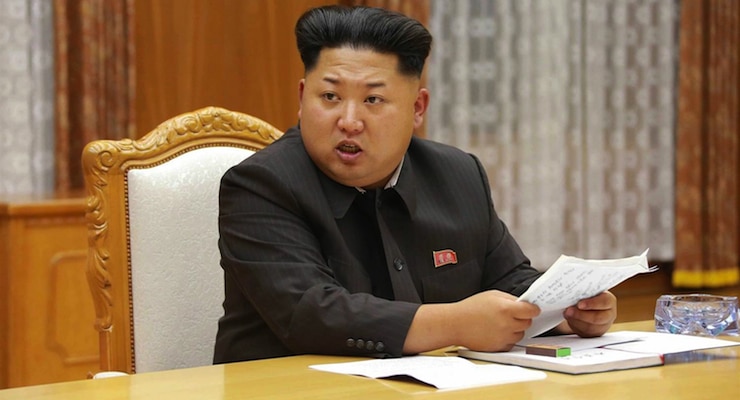 North Korea Preparing for a Massive Attack Against the South?
North Korean leader Kim Jong Un placed his army on what the North calls a "quasi state of war" Friday after a meeting with senior party and defense officials. Following the meeting, which took place Friday, Un "reviewed and approved the final attack operation" against the rogue regime's neighbor, South Korea.
While PPD wasn't able to learn about specific details regarding the plan, a source says retaliation from the North Korea would be an appropriate but not proportionate response to the South Korea shelling its territory on Thursday. South Korea claims it fired "dozens" of artillery fire in response to Pyongyang launching a projectile at a loudspeaker broadcasting anti-North propaganda, which was launched around 3:52 pm (0252 EDT).
Unsurprisingly, Kim Yong Chol, director of the general reconnaissance bureau of the North Korean army, on Friday denied South Korea's claims, arguing that Pyongyang is not behind the raising tensions on the Korean peninsula. He also refuted the claim the North even fired anything across the Demilitarized Zone, stating South Korea has not offered conclusive evidence where the rocket was launched in the North, or where exactly it landed in the South. Kim speculated human error might have been behind South Korea's decision to retaliate with its own barrage, and called the act dangerous and rash.
"Skirmishes can lead to all-out war," Kim said.
Meanwhile, South Korea's presidential office said it has called an urgent meeting of the national security council in response to the attack, the military raised its alert status to the highest level, and residents in and around the area of the attack were ordered to evacuate.
The communist dictatorial North and the pro-West South have remained in a technical state of war since signing the armistice following the 1950-1953 Korean War. While it ended in a truce, it is not an actual peace treaty.