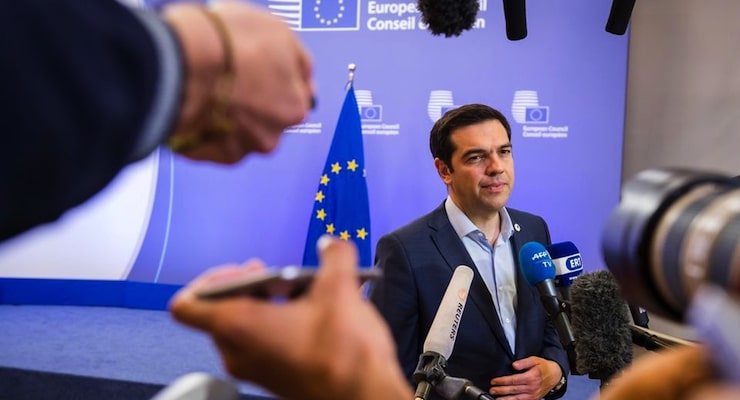 Greek Prime Minister Alexis Tsipras will resign Thursday and leave a nation he sold impossible promises to far worse off then before his tenure. Tsipras, a member of the radical left-wing socialist Syriza party, will hand in his resignation to President Prokopis Pavlopoulos and clear the way for elections next month. Elections will be held as Greece deals with its ongoing debt crisis, which has only metastasized under the failed prime minister's leadership.
Tsipras was only elected in January on the promise to save Greece from what they viewed as unbearable European Union-imposed austerity, and force higher taxes on Greece's shrinking productive class. Rather than stand by the deal made with EU creditors–mainly Germany and France–he and his coalition government reneged only to be forced into stringent budget austerity conditions. Creditors had demanded imposed far more draconian cuts to the Greek welfare state than was initially agreed upon in exchange for $96 billion. On Thursday, Greece began tapping into the funds from the three-year bailout program.
A parliamentary vote to approve the bailout conditions last week, which was rejected by dozens of Syriza party lawmakers refusing to face reality, send Greek stocks further down. Further, with Tsipras locked in his office with cabinet ministers for most of the day, the political uncertainty forced the Athens Stock Exchange down 3.5 percent in early afternoon trading.
"The Greek stock market is coming into a new circle of uncertainty while we are waiting for new elections to be announced," said analyst Evangelos Sioutis, head of equities at Guardian Trust Securities. "For the stock markets it is a factor of uncertainty."
Tsipras is expected to make a statement Thursday night, with the most likely date for snap polls being Sept. 20, which would give him an opportunity to deal with hardliners who oppose the terms of the new bailout and avoid a vote of confidence in his government. Meanwhile, Greek banking is still restricted under capital controls imposed in late June aimed to hold off a bank run. He had called for a referendum to decide whether to accept creditor proposals for reforms, rather than making the difficult decisions leaders are expected to make. There are still weekly limits on cash withdrawals and Greeks can only transfer up to 500 euros abroad per month. Companies have faced problems paying suppliers abroad, with all international payments requiring a laborious process of approval by a special finance ministry committee.
"Greece has capital controls, the economy is choking, and we will now have uncertainty from elections, so you understand that it has been a difficult month," Sioutis said.
The Greek people received the first $14.5 billion from its new bailout package on Thursday, which is designed to allow it to repay its European Central Bank debt and avoid another default. Greece, which became the first nation in the developed world to default on its debt, was unable to repay their debt in part because over 80 percent of tax bills go unpaid. Missing the payment would have raised new questions about the country's ability to remain in the euro, which experts already question. International money management firms have pegged the probability of a "Grexit" as high as 85 percent.
European bailout fund supervisors approved the release of the first batch of loans on Wednesday evening, with 12 billion euros earmarked for repaying debts and the remainder for settling arrears to public sector suppliers.