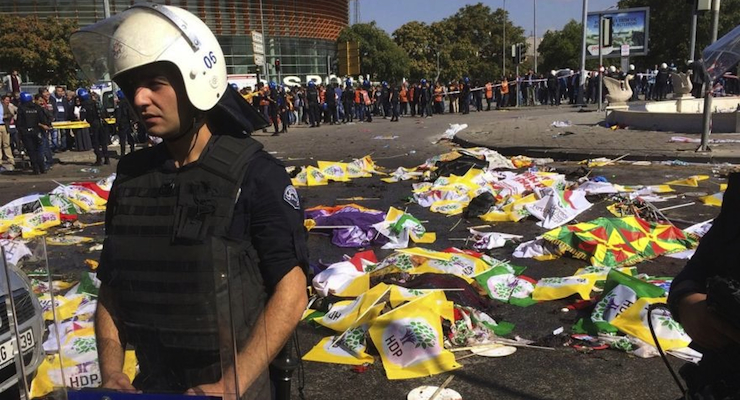 ANKARA, Turkey –  Turkish Prime Minister Ahmet Davutoglu said there is strong evidence that the two deadly attacks at a peace rally in Ankara were suicide bombings. The explosions occurred Saturday as hundreds of people were gathering for the peace rally organized by leftist and Kurdish activists, just weeks before a pivotal election.
According to Health Minister Mehmet Muezzinoglu, 86 are dead and at least 186 are injured, though the death toll is expected to rise further. Prime Minister Ahmet Davutoglu also declared a three-day official mourning for the victims of the two explosions, as well as for people killed in terror attacks since July.
"Like other terror attacks, the one at the Ankara train station targets our unity, togetherness, brotherhood and future," President Tayyip Erdogan said in a statement, calling for "solidarity and determination".
Critics have accused Erdogan of purposefully inflaming tension and fighting with the Kurds for political and electoral gains, a charge he vehemently denies. The charge leveled against him is that he is literally counting on the turmoil rallying voters back to the ruling Justice and Development Party, or the AKP.  Electoral gains by the country's pro-Kurdish Peoples' Democratic Party (HDP) caused the AKP, founded by Erdogan, to lose its parliamentary majority in a June election after a decade of single-party rule. Erdogan links the opposition to the Kurdistan Workers Party (PKK).
"Suruc, Diyarbakir and now Ankara, all works of murderer Erdogan. We will tear down that palace," a 21-year-old university student, Tarik, who had been less than 50 meters from one of Saturday's blasts told Reuters.
Thus far, no group has claimed responsibility for the bombings.