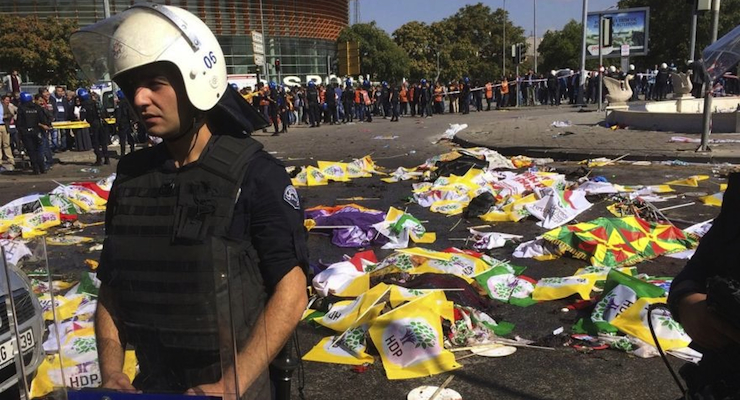 Turkish Prime Minister Ahmet Davutoğlu said an investigation into a suicide bombings at a peace rally in Ankara would be focused on the Islamic State (ISIS). At least 128 people died and over 200 more were wounded in bombings Saturday during peaceful protests in the Turkish capital, which the prime minister said was an attempt to overshadow upcoming snap elections.
"We are focusing on [Isis] in our investigations. We are zooming in on one name that points to a certain criminal organisation," Davutoğlu said. "But one cannot just say that we should round up an entire sleeper cell and throw them [in jail]. We must act according to the law."
The prime minister declared three days of national mourning after the attack, which was likely carried out by two bombers and was the largest terrorist strike in recent Turkish history. The blasts hit a peace rally that drew participants from across the political left, including members of the Kurdistan Workers Party (PKK) and the pro-Kurdish People's Democratic Party (HDP).
"These attacks will not turn Turkey into a Syria," Davutoglu said.
Protesters were calling for peace between the Turkish government and Kurdish PKK militants, with whom the Turkish government has resumed hostilities. In a statement released on Monday, the HDP's leaders said the ruling Justice and Development Party, or the AKP, was using "escalation of violence" as a strategy to push the leftists back under Turkey's high electoral threshold for entering parliament.
They link the Ankara bombings to the Suruc attack and the fatal bombing of an HDP electoral rally in June, labelling them a "chain of massacres", and call on the international community to take "a firmer stance" with Turkey's government.