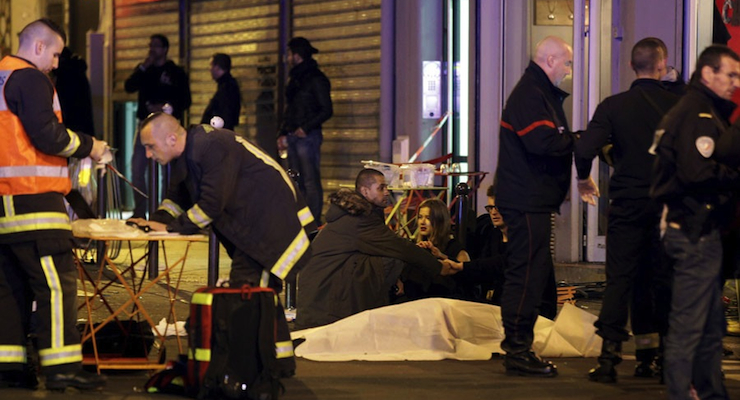 "This is for Syria" another Witness Said the Gunmen Shouted
UPDATE: At least 158 people, including 118 confirmed to have been executed in a Paris concert hall, in what was a series of coordinated terror attacks in France. Terrorists wielding AK-47s and hurling explosives executed hostages in the Bataclan Concert Hall, while a gunman opened fire in a popular restaurant, Le Petit Cambodge.
President Francois Hollande has ordered a state of emergency, the nation's borders closed and essentially a military lockdown. Hostages emerged from the Bataclan, some with blood covering their clothes. The gunmen are young and unmasked.
According to witnesses, the gunmen, who were very young, shouted "Allahu Akbar" and "this is for Syria." They also asked "What are you doing in Syria?" and told victims "You are going to pay now."
French President Francois Hollande: "We are Going to Lead a Pitiless War"
A witness name Louis, who was in the Bataclan, told France Info radio the men opened fire and shouted "Allahu Akbar."
"It lasted between 10 and 15 minutes," Julien Pierce, a Europe 1 journalist who was inside the Bataclan said. "It was extremely violent and there was panic. The attackers had enough time to reload at least three times. They were very young."
Two of the gunman at the Bataclan have been killed, while one is in custody. In total, five Islamic terrorists are dead from related attacks across the city.
Officials tell PPD that as many as six other attacks took place, including coordinated shootings and at least two suicide bombers, one which detonated near the city's Stade de France soccer stadium, where French President Francois Hollande was watching the French and German national teams playing.
"The men came in and started shooting. Everyone fell to the ground. It was hell. I took my mum, and we hid," Marc Coupris, 57, told The Guardian. "Someone near us said they have gone, so we ran out. I was only thinking of escaping. We're out now. I think people are still inside. It's a nightmare – a nightmare."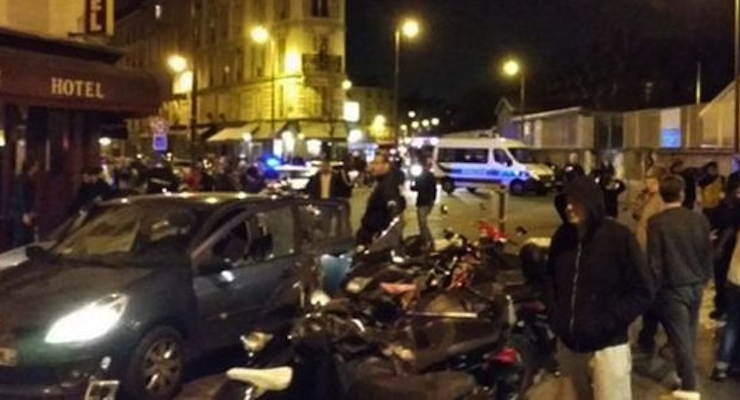 "This is for Syria," another witness said one of the gunmen shouted at the theater.
"We are all terrified, and have been told to get away as soon as possible," said Gilles Avel, a 19-year-old student who was enjoying a night out with friends close to the Bataclan, where a band called the Eagles of Death Metal was playing.
The French capital has been on a high state of alert ever since the attack on the satirical magazine Charlie Hebdo, which left 13 dead. Four Jewish shoppers were also murdered in a related set of attacks inside a Kosher supermarket in nearby Vincennes, and security services had been warning that another Islamic terror attack was likely.
French Prime Minister, Manuel Valls joined President Hollande and Interior Minister Bernard Cazeneuve for an emergency crisis meeting. Meanwhile, British Prime Minister David Cameron said that he was "shocked by events in Paris" and pledged to do "whatever we can to help."
"Our thoughts and prayers are with the French people."
[brid video="19984″ player="1929″ title="Explosion in Paris Terror Attack Caught on Video"]