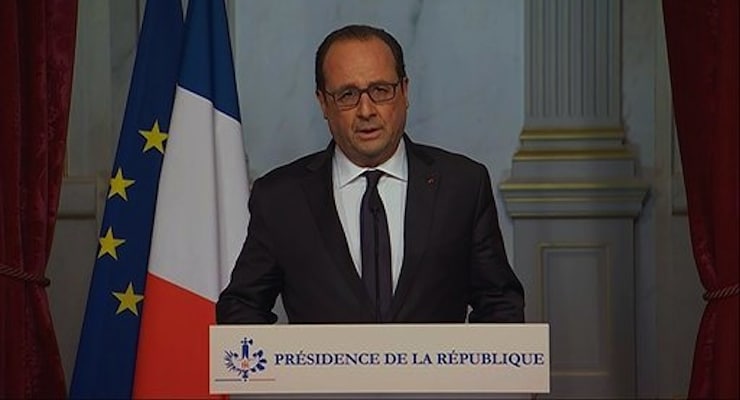 French President Francois Hollande vowed to "lead a pitiless war" against the Islamic terrorists who were behind a series of coordinated attacks in Paris. There has not yet been a significant claim of responsibility from the Islamic State or al-Qaeda.
"We will lead a pitiless war," Hollande told the grieving people of Paris and the nation, adding that an enemy capable of such acts must know they will be met with strength.
At least 158 people, including 118 confirmed to have been executed in a Paris concert hall, are dead. Terrorists wielding AK-47s and hurling explosives executed hostages in the Bataclan Concert Hall, while a gunman opened fire in a popular restaurant, Le Petit Cambodge. Officials tell PPD they believe that the attack on the restaurant came moments before in an effort to distract law enforcement resources, leaving the larger more populated concert hall a defenseless target.
According to witnesses, the gunmen, who were young men, shouted "Allahu Akbar" and "this is for Syria." They also asked "What are you doing in Syria?" and told victims "You are going to pay now."
Two of the gunman at the Bataclan have been killed, while one is in custody. A source told PPD that the living suspect told officials he was recruited in Syria with three others who migrated to Europe. We are working to confirm this significant claim with other sources. Supporters of ISIS on Twitter under the hashtag باريس_تشتعل# were saying Rome, London, and Washington D.C. were next.
However, U.S. Homeland Security Department officials monitoring the attacks in Paris say there is no known, credible threat against the U.S., though New York and Boston were put on high alert in the wake of the attacks.
In total, five Islamic terrorists are dead from at least six related attacks across the city. However, officials have told PPD that multiple militants are still on the loose. Hollande, who was at the city's Stade de France soccer stadium at the time of the attacks, declared a state of emergency on all mainland territory and Corsica during a Cabinet meeting urgently summoned at the Elysee palace on Friday night.
"We must ensure that no one comes in to commit any act whatsoever, and at the same time make sure that those who have committed these crimes should be arrested if they try to leave the country," Hollande said.
[brid video="19984″ player="1929″ title="Explosion in Paris Terror Attack Caught on Video"]