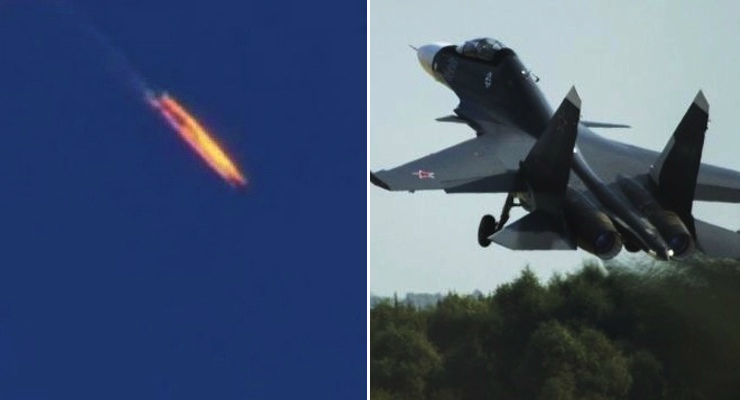 Russian President Vladimir Putin on Tuesday called Turkey's decision to shoot down a Russian fighter jet a "stab in the back" and vowed it would have "significant consequences" for the NATO nation.
U.S. officials confirmed early Tuesday that a Turkish F-16 fighter jet shot down a Russian Su-24 fighter jet with an air-to-air missile near the border between Turkey and Syria. NATO has called an emergency meeting in Brussels as the possibility of conflict between Moscow and NATO increases.
"The aim of this extraordinary North Atlantic Council meeting is for Turkey to inform allies about the downing of a Russian airplane," NATO's deputy spokesperson Carmen Romero told the Associated Press.
Video footage of the incident showed the plane on fire before crashing on a hill, and the two Russian pilots were forced to eject. However, while the footage shows the pilots parachuting down to the ground, Syrian rebels claimed they shot and killed at least one of them.
More recent video footage posted by the so-called moderate rebels show them shouting "Allah Akbar" over the body of the dead pilot, which emerged shortly before a separate rebel group blew up a Russian helicopter searching for the surviving soldier.
The development comes following an earlier accusation that Russia violated Turkish airspace in October, prompting NATO to deploy six U.S. Air Force F-15 fighters previously in stationed in Britain to to Incirlik Air Base in Turkey. Also in October, the North Atlantic Council, which is NATO's governing body, had warned Moscow it was flirting with "extreme danger" if it continued to send planes into Turkish air space.
The alliance's European Command said the deployment was "in response to the government of Turkey's request for support in securing the sovereignty of Turkish airspace" and an effort to secure their member's airspace.
NATO claims of Turkish airspace violation have been vehemently by Putin, who said the jet never left Syrian airspace before accusing Turkey of funding ISIS, and using its military to protect the terrorist organization.