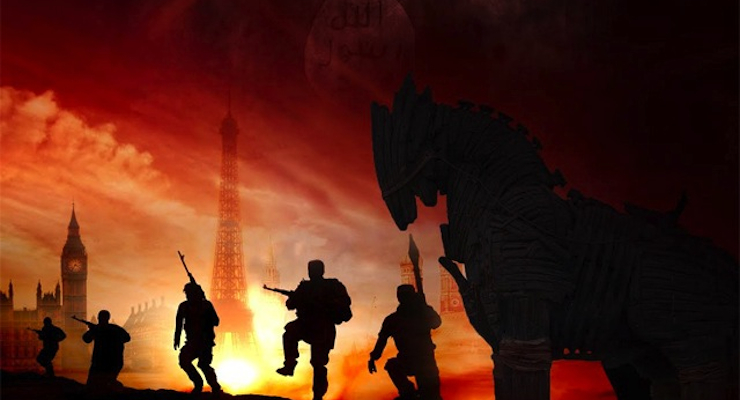 Only Half of So-Called Syrian Refugees are From Syria, Data Show
The number of so-called migrant refugees to Europe in 2015 reached one million, according to the latest data from the International Organization for Migration (IOM).
The number of refugees is roughly four times the total from last year and only half are even from Syria. More than 800,000 traveled from Turkey to Greece and almost all traveled by sea, though the figures tracked numbers from Greece, Bulgaria, Italy, Spain, Malta, and Cyprus.
Hungarian President Viktor Orban, the one leader who has been consistently pushing back against the unfettered migrant policy, is now moving to take action to stop the flow.
"A modern day mass migration is taking place that could change the face of Europe's civilization," Orban said. "If that happens, that is irreversible. There is no way back from a multicultural Europe. If we make a mistake now, it will be forever."
With domestic populations across Europe increasing against further migrations, a sentiment that is being largely ignored by the media, Hungary and Slovakia are now taking legal action at the European Court of Justice to challenge EU plans to share asylum seekers across EU states.
While conflicts in the Middle East and Afghanistan are widely reported to be fueling the wave of people, 20% are coming from Afghanistan and 7% from Iraq. European countries have struggled to handle the influx. Macedonia has tightened its border with Greece, and restricts passage to people from war zones. The EU agreed last week to send more border agency officials to Greece. Germany alone has received one million migrants and refugees, but the number will be far greater, as more than 1 million registrations in Germany's "EASY" system that counts new arrivals ahead of them claiming asylum–including roughly 40% of people from the Balkans–are not included in UNHCR figures.
German Chancellor Angela Merkel has doubled-down on taking in Muslim refugees even as she faces rising opposition within her own political coalition. Bavaria's Christian Social Union (CSU), sister party of Merkel's CDU, is in full-blown rebellion. But that isn't stopping the pro-migrant crowd, who have made a concerted effort to completely overlook the burden to the generous welfare states in the EU and public outcry.
"We must also act. Migration must be legal, safe and secure for all — both for the migrants themselves and the countries that will become their new home," said William Lacy Swing, IOM's director general. The IOM says 3,695 died trying to make the crossing in 2015.