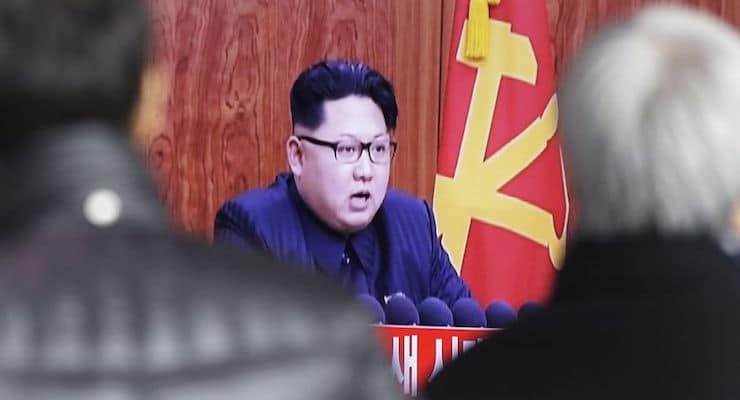 North Korea claimed early Wednesday it successfully conducted a test of a "miniaturized" hydrogen bomb, calling it a "perfect success" that brought the nation's "nuclear might to the next level." The surprise announcement came just hours after seismic activity indicative of an earthquake was detected in North Korea by multiple international organizations.
"The first H-bomb test was successfully conducted in the DPRK at 10:00 on Wednesday, Juche 105 (2016), pursuant to the strategic determination of" the regime's ruling communist party, the official Korea Central News Agency boasted. The test was "conducted with indigenous wisdom, technology and efforts" and showed "that the technological specifications of the newly developed H-bomb for the purpose of test were accurate and scientifically verified the power of smaller H-bomb."
However, Pentagon and intelligence officials who spoke to PPD on a condition of anonymity say that they are skeptical about Pyongyang's claim. An intel official noted that an estimated explosive yield of six kilotons and a magnitude-4.8 earthquake were detected Wednesday, which is a slightly smaller blast than the estimated explosive yield of 7.9 kilotons and magnitude-5.1 quake that were reported after a February 2013 nuclear test by North Korea.
"We condemn any violation of U.N. Security Council Resolutions and again call on North Korea to abide by its international obligations and commitments," State Department spokesman John Kirby said in a statement. "We have consistently made clear that we will not accept [North Korea] as a nuclear state."
A Pentagon official also noted that the amount is only a fraction of a typical successful hydrogen bomb test's explosive yield, which is usually hundreds of kilotons. Still, Japanese Prime Minister Shinzo Abe vowed "strong action" against North Korea on Wednesday, calling the test a threat to Japan's security.
"We absolutely cannot allow this, and condemn it strongly," he told reporters in Tokyo.
According to Yonhap, South Korea's National Intelligence Service said North Korea did not inform China of the test. The KCNA's propaganda-riddled statement began:
"There took place a world startling event to be specially recorded in the national history spanning 5 000 years in the exciting period when all service personnel and people of the DPRK are making a giant stride, performing eye-catching miracles and exploits day by day after turning out as one in the all-out charge to bring earlier the final victory of the revolutionary cause of Juche, true to the militant appeal of the Workers' Party of Korea (WPK)."