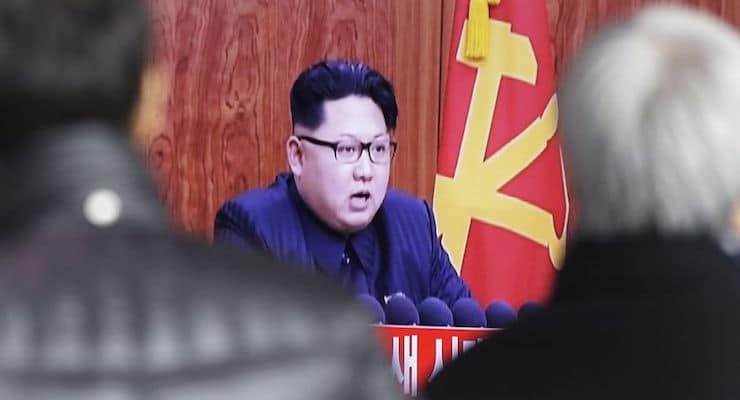 Kim Jong-un, the dictator of North Korea, has issued the order to ready the regime's nuclear weapons for use at a moment's notice, the official state news agency reported Friday.
Kim also ordered ready the North Korean military in an order to prepare forces to carry out pre-emptive attacks. Kim called the current situation very precarious but necessary in "the face of a growing threat to enemies."
On Thursday, North Korea fired six short-range projectiles into the sea off its east coast, according to South Korean officials. The move came just hours after the U.N. Security Council approved what is being called the toughest round of sanctions on Pyongyang in two decades. The resolution was a response to its recent nuclear test and long-range rocket launch.
The firings also came shortly after South Korea's National Assembly passed its first piece of legislation on human rights in North Korea. In 2014, a U.N. commission on North Korea released a report detailing human rights abuses, including the establishment of socialist-style political prison camps that were allegedly detaining upwards of 120,000 people.
In February 2014, another U.N. reported called for an international criminal investigation into human rights violations by the oppressive-leftist North Korean regime. The three-member panel has found evidence of myriad crimes, such as "extermination," crimes against humanity, against starving populations and a widespread campaign of abductions of individuals in South Korea and Japan.
The three-member panel, which was headed-up by retired Australian judge Michael Kirby, took the most significant step and made the most significant attempt to investigate evidence of severe and repeated human rights violations in the leftist, despotic regime. The report concluded that the testimony and other evidence it received "create reasonable grounds … to merit a criminal investigation by a competent national or international organ of justice."
North Korea has not issued an official response to the new U.N. sanctions. But citizens in its capital, Pyongyang, interviewed by The Associated Press said Thursday they believe their country can fight off any sanctions.
"No kind of sanctions will ever work on us, because we've lived under U.S. sanctions for more than half a century," said Pyongyang resident Song Hyo Il. "And in the future, we're going to build a powerful and prosperous country here, relying on our own development."
China, which had previously threatened to block any human rights violation in 2014, is the North's closest ally. Foreign Ministry spokesman Hong Lei said Beijing hoped the U.N. sanctions would be implemented "comprehensively and seriously," while hoping no harm would come to ordinary citizens.
Meanwhile, the North Korean projectiles were fired from the eastern coastal town of Wonsan and traveled on a course roughly 100 to 150 kilometers (60 to 90 miles) before landing in the sea, South Korea's Joint Chiefs of Staff said in a statement.