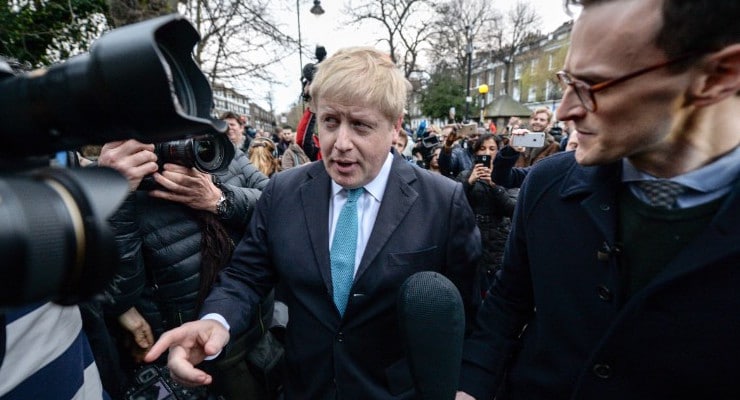 London Mayor Boris Johnson said on Sunday he will oppose Prime Minister David Cameron on his plan to remain in the European Union. The development marks the first and most prominent British politician to come out against Cameron ahead of the June 23 referendum that will determine the country's future in the EU.
"I want a better deal for the people of this country: To save them money and to take back control," he said on Sunday.
While public opinion polls still slightly favor Brits wanted to remain in the EU, the trend line favors separation and the gap has narrowed expeditiously. In a sign the vote is even more volatile, a whole one in five people say they are undecided. Johnson's support could help to sway a significant number are voters.
Johnson, a Conservative like Cameron, said the EU was eroding Britain's sovereignty. However, in what is surely a temporary penalty by the markets, the British pound (GBPUSD) dropped on Monday after Johnson said he was not on board with Cameron's bid to persuade Britons that they should remain in the European Union. The pound was down around 1.3% against the U.S. dollar at $1.4119, but was at one time as low as 2% off, the sharpest daily fall in percentage terms since early 2009.
"The market is obviously taking into account the political developments," said Roger Hallam, chief investment officer for currency at J.P. Morgan Asset Management.
Working against Cameron's favor are the strong concerns over the high levels of immigration to Britain, much of which comes from the EU thanks to the freedom of movement permitted throughout the bloc, and the pressure this puts on public services like health care. But Cameron's cause is likely to be aided by the general uncertainty that would stem from leaving the EU. Big businesses also support him.