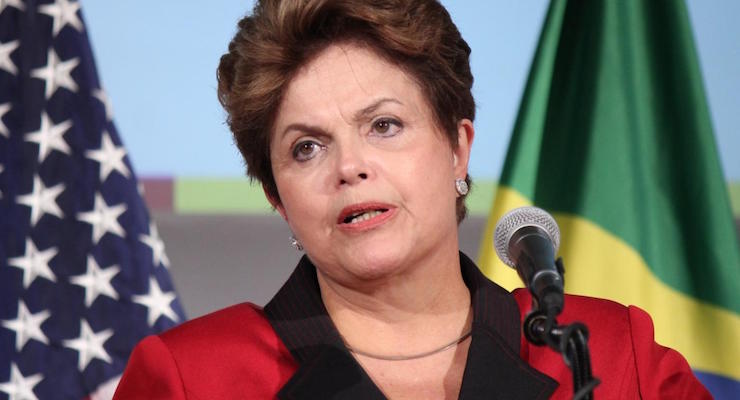 The lower house in Brazil voted late Sunday to impeach President Dilma Rousseff, a major blow to the left-wing leader of Latin America's largest nation. Rousseff, a key ideological ally of U.S. President Barack Obama, repeatedly stated there were no scandals in her administration and argued that the push against her was a "coup."
Brazilian lawmakers accused her of using budgetary tricks to manage federal budget, cover up debt to maintain excessive government spending and shore up political support. After more than 40 hours of debate, she failed to secure the support of at least 342 of 513 deputies and the needed two-thirds of lawmakers in the Chamber of Deputies voted to oust her.
While Brazil is also the most powerful economy in Latin America, it has suffered under the leadership of President Rousseff. In the end, her support in the government coalition fell away.
"It was a herd effect, and many (legislators) betrayed us. It was a double defeat," said Brazilian Communist Party legislator Orlando Silva, a supporter of Rousseff.
Luiz Carlos Hauly, who serves as a deputy in the Social Democratic Party, the main opposition party, said Rousseff had to be impeached for the government to move forward.
"In Europe they change their government when it doesn't have the majority," he said. "This administration has no majority. It doesn't have the means to govern."
However, the nation's future leadership is still anything but certain. The measure now goes to the Senate where, if by a simple majority the lawmakers vote to take it up and put the president on trial, President Rousseff will be suspended and the top job taken by Vice President Michel Temer.
Eduardo Cunha, the house speaker leading the push for impeachment, is second in line to replace Rousseff in the event she is fully ousted. He is facing various charges including money laundering and allegedly accepting roughly $5 million in kickbacks in connection with the Petrobras scheme. Mr. Cunha could also be stripped of office over allegations he lied when he told a congressional committee he didn't hold any foreign bank accounts.
Documents later emerged linking him and his family to Swiss bank accounts, but as is the case with most other leftwing regimes, Brazilian legislators and other top politicians are afforded "special legal status," meaning they must be tried by the Supreme Court for crimes and are largely protected from prosecutions.